C3 2019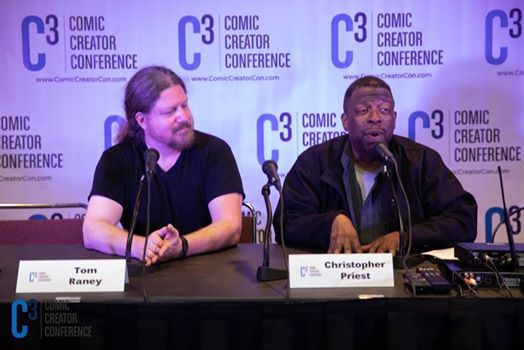 Author: Newsroom
Long Beach, CA (February 13, 2019) – Today, MAD Entertainment Management — experienced hosts of diverse and inclusive pop culture conventions — is pleased to announce the complete program line-up for this year's C3: Comic Creator Conference. 
Taking place on Friday, February 15, 2019, at the Long Beach Convention Center in Long Beach, California, on the eve of the Long Beach Comic Expo, this ninth installment of the largest professional comic industry event brings with it opportunities to connect professional comic creatives and other high-level industry professionals through a series of valuable panels and events. This year's conference will include talks from industry leaders and veterans, including Keynote addresses from Martha Donato, CEO of MAD Entertainment Management and founder of C3, John Nee, publisher of Marvel Comics, and Joseph Illidge, author, editorial strategist and former editor of DC Comics and Valiant Comics. 
This empowering and insightful event will culminate with the presentation of the 5th Annual Dwayne McDuffie Award for Diversity in Comics. Created in honor of Dwayne McDuffie (1962-2011) — the legendary African-American writer and producer of Static Shock, Justice League, and Ben 10: Alien Force & Ultimate Alien who most famously co-founded Milestone Media, the most successful minority-owned comic book company in the history of the industry — spotlights the foremost underrepresented voices in comics who are striving to craft a wider diversity of creations.
"At MAD Events, we strive to not only provide fans of the comic industry an outlet to have fun, but we also encourage the industry's growth by serving its most talented creators," said Jim McLauchlin, Director of Programming for C3. "We're proud to host the Comic Creator Conference once again so that industry professionals can network, learn from one another, and acquire the resources they need to introduce new worlds to comic fans worldwide."
Some of the C3: Comic Creator Conference panel highlights include:
Listen and Thrive as a Creator: Presented by Writer Barbara Kesel (Hawk and Dove), Actor/Author Neo Edmond (Mighty Morphin Power Rangers), and Writer Charlotte Fullerton (My Little Pony, Ben 10), learn why listening is the key to honing your creative skills and expanding your writing palette.
Self-promotion From the Experts: Former DC Comics and Valiant Comics Editor Joe Illidge and Fanbase Press Editor in Chief Barbara Dillon share their combined expertise in getting your product to the masses and media outlets through guerrilla marketing, social media, and networking events.
Challenges and Opportunities for Independent Creators: Writer Ron Marz (Green Lantern), Aspen Comics Editor-in-Chief Vince Hernandez, and sci-fi/fantasy/horror author Russell Nohelty have been with companies big and small. Attendees will learn all about exciting opportunities on the indie scene and the ins and outs of working with large companies.
Creator Connection: First Connections: One of the most anticipated panels — hosted by Marvel Comics Writer Buddy Scalara (of Deadpool fame) — invites attendees to bring business cards and samples of their work to this interactive networking panel that has, over the years, brought countless creative teams and publishers together.
Comic industry professionals who wish to attend C3: Comic Creator Conference can purchase tickets through C3's official website: http://comiccreatorcon.com. The full C3 programming schedule is available at https://uberstrategist.link/C3-ProgrammingSchedule.