Long Beach Comic Expo 2020
Author: Newsroom
WARWICK, NEW YORK (DECEMBER 12, 2019) — MAD Event Management LLC — an experienced host of diverse and inclusive pop culture conventions — is thrilled to announce the 2020 return of their annual comics-first show, Long Beach Comic Expo (#LBCE2020)! Packed to the brim with panels, activities, and special guests, LBCE 2020 is the #1 pop culture event where fans in the Greater Los Angeles area can celebrate all there is to love about the comic book and entertainment industries. LBCE 2020 takes place on January 11 and 12, 2020, at the Long Beach Convention Center, with tickets available now.

Poised to be one of the best shows yet, attendees of LBCE 2020 can take part in dozens of panels featuring some of the biggest creators in comics, TV, and movies, participate in the annual cosplay contest, and attend screenings at Geekfest — an epic sci-fi and fantasy movie celebration. LBCE 2020 also sees the return of Space Expo, which brings together STEM education and pop-culture icons to entertain and educate fans of all ages.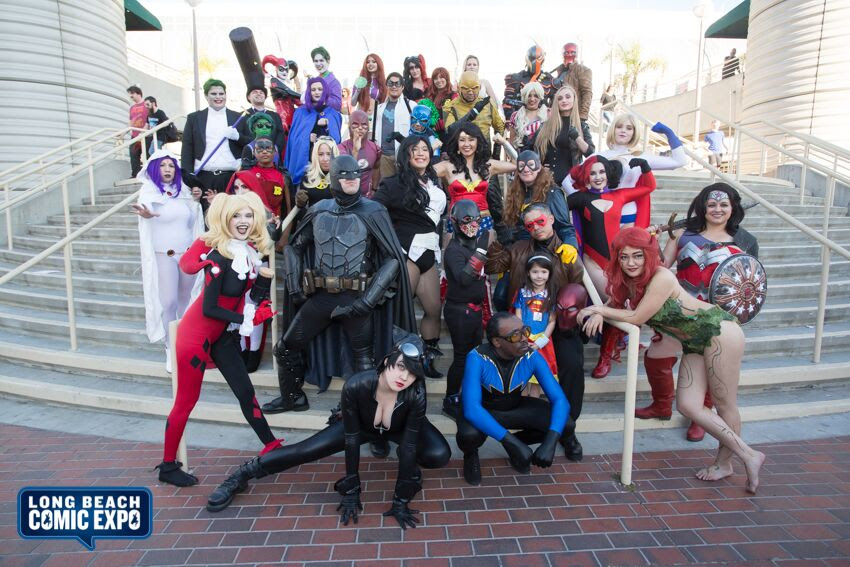 Following the tradition of showcasing incredible guests that have put LBCE on the map, this year's event will once again feature living legends of the comic industry, including writer Gerry Conway (co-creator of Marvel Comics' The Punisher) and multiple award-winning writers and artist Ty Templeton (Batman Adventures). This year, LBCE also welcomes acclaimed artist David Mack, known for his work on Daredevil and creator-owned comic Kabuki, as a Guest of Honor. Other exciting guests include artist Scott Koblish (Deadpool), popular writers Christopher Cantwell (co-creator of Halt and Catch Fire), Gerry Duggan (the X-Men series Marauders), and Young Adult novelist S.T. Bende (Viking Academy and multiple novels in the Star Wars universe).

Fans of the hit TV series Breaking Bad are in for a treat, as special guests Cesar Garcia (Gonzo), Daniel Moncada (Leonel Salamanca), and Luis Moncada (Marco Salamanca) will join this year's Social Square to meet with fans for pictures and sign autographs. Get ready to morph into action as Power Rangers'Jason Faunt (Red Ranger, Power Rangers: Time Force) and Nakia Burrise (Yellow Ranger, Power Rangers Zero) join the Social Square to be on hand for autographs and photo opportunities. 

A full list of confirmed special guests can be found here: http://longbeachcomicexpo.com/guests.

"As Long Beach Comic Expo heads into its 10th year, we're thrilled to welcome comic fans back for another awesome weekend," said Martha Donato, President of MAD Event Management. "LBCE continues to bring fans together to meet their favorite comic book legends; with its diverse panels, inclusive activities, and exciting experiences, there's something for everyone."
LBCE 2020 festivities include:
Comic Creator Conference (C3) 2020: Taking place ahead of LBCE 2020 on Friday, January 10, this unrivaled B2B event brings together professional creators, publishers, and newcomers to connect and take part in a variety of panels that offer insight into the industry.

Star Wars: Episode IX Panel: Dying to talk about The Mandalorian? Ready to share your thoughts about Episode IX? Excited to show off your Baby Yoda t-shirt? Join novelist S.T. Bende and Star Wars expert Craig Miller for the first Star Wars panel of 2020!

Harley Quinn Panel: With the popular comics and cartoon character leading February's live-action Birds of Prey movie, celebrate the character with a panel featuring creators including Joker/Harley: Criminal Sanity artist Mike Mayhew!

Latina Superhero Panel: Jalisco writer and creator Kayden Phoenix leads a panel on Latina superheroes and will meet with fans all weekend in Artist Alley.
 
Cosplay Guests and Contest: Meet special guest professional cosplayer and model Ivy Doomkitty in the Social Square, and later, strut your stuff in LBCE's annual cosplay contest. Go head-to-head in various categories judged by an expert judges panel, or join in on the fun and cheer on your favorites in one of cosplay's most enthusiastic audiences.
 
Fanbase Press' 10th Anniversary Panel: Diversity-focused comics publisher Fanbase Press returns to LBCE to celebrate its anniversary! Join featured guest Sebastian Kadlecik (creator of the acclaimed Quince), Quince collaborators Kit and Emma Steinkellner, writers Desiree Proctor and Erica Harrell (Nuclear Power), and more!

Geekfest — Women of Sci-Fi: Join the Women of Sci-Fi as the popular Geekfest panel returns to Long Beach Comic Expo! The panel will be hosted by Jackie Dallas, Aliza Pearl, Michele Specht, and Nakia Burrise.
 
Space Expo — Dinosaurs Panel: Space Expo returns to LBCE with incredible panels and hands-on experiences, all free to LBCE attendees. Here, a paleontologist team discusses science and pop culture takes on the animals that once dominated the world!
For more details, follow Long Beach Comic Expo on Facebook, Instagram, and Twitter.

A full press kit, including logos and pictures from the show, can be found here: https://uberstrategist.link/LBCE2020-Press-Kit

For additional information, go to LongBeachComicExpo.com, and for tickets, go to https://www.eventbrite.com/e/long-beach-comic-expo-2020-tickets.