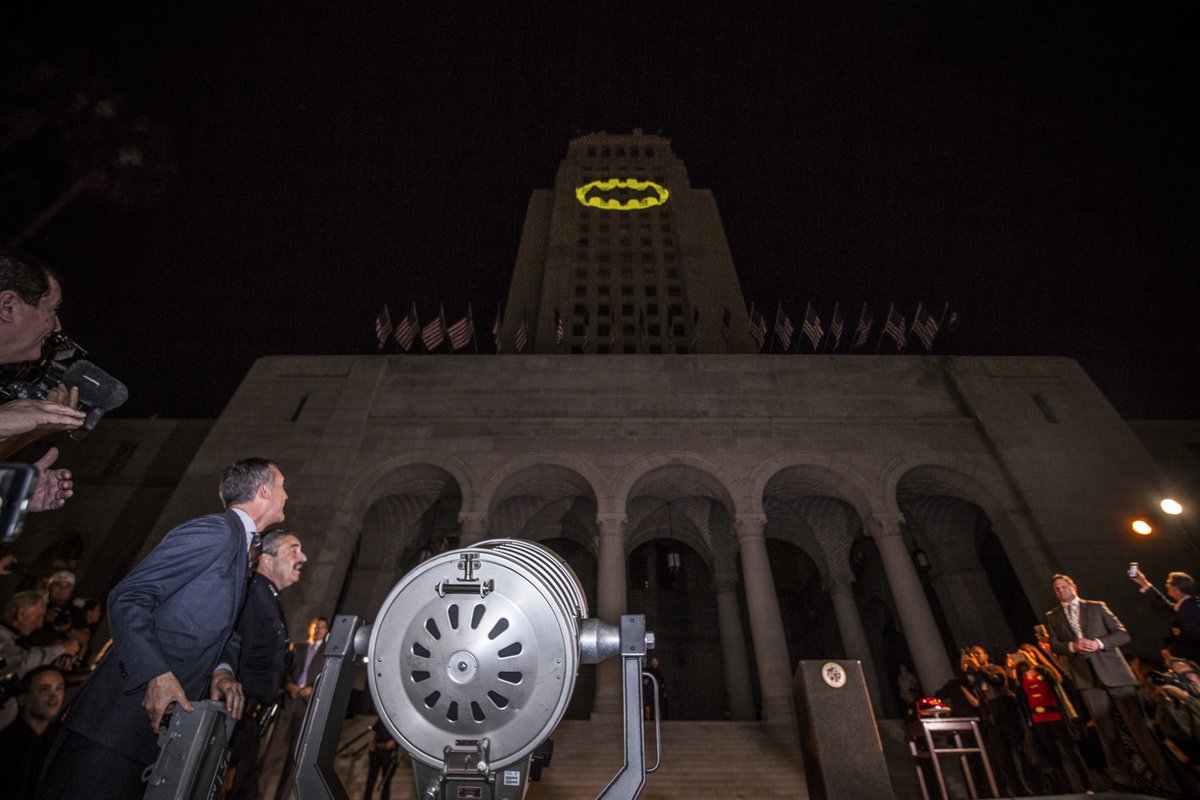 Author: Travis Hayward
A hero to countless citizens worldwide, on June 9, 2017, ended his vigilant watch over us. That guardian was actor Adam West, famously known for starring in the 1966 Batman television series. At age 88, West tragically lost his life after a short battle with leukemia.
Days after his death, several news outlets reported that West would be honored by the City of Los Angeles with a ceremonial lighting of the Bat-Signal at City Hall on Thursday, June 15, 2017. An iconic symbol of the comics, films, and TV series alike, this beacon of hope is used by the Gotham Police Department to contact Batman whenever evil rears its ugly head.
Throughout the summer evening, admirers gathered around, ready to say goodbye to their "Bright Knight." Fans came dressed for the occasion: cosplaying as all incarnations of Batman and family or adorned in T-shirts and hats with the bat emblem. On display for guests was a red Bat-Phone, similar to the one Gotham City's Commissioner James Gordon used to chat with Batman in the TV series. There were even two red-and-black finned replica Batmobiles parked on the sidewalk for people to take photos.
The tribute began with LA Mayor Eric Garcetti welcoming everyone as "citizens of Gotham." He reminded the crowd that "we all spent many hours in front of the TV, same bat time, same bat channel." Mayor Garcetti said, "Adam West taught us, each one of us had a heart of gold," and that "there will never be another Batman like Adam West, and there will never be another Adam West." He then opened the floor to LAPD Chief Charlie Beck, who remarked, "As a real-life police chief, I can't tell you how many times I've wanted to light the Bat-Signal."
Eager devotees were then treated to the legendary Burt Ward, West's co-star, and beloved friend for over 50 years. Speaking of his experiences playing an iconic Robin on the original show and through various special reprises of the role, Ward beamed that he was blessed to have spent 75% of his career working with West. He expressed to everyone present that he knew West was with them in spirit.
Ward then reminded the mourning crowd that "my friend Adam would want every single one of you to be incredibly happy and joyous because he spent his entire life as a performer making people happy, making them laugh, and trying to make this world a better place."
The last of the special guests was KROQ Entertainment reporter and actor Ralph Garman. West was frequently a subject of Garman's "Showbiz Beat" segment of the Kevin & Bean Morning Show, and through that, the two became fast friends. Garman and West became colleagues when both were cast in the hit animated sitcom Family Guy. Garman described West as "so warm and kind and just an all-around great guy."
Also present at the public memorial were West's wife Marcelle and their daughters, as well as actress Lee Meriwether, who played Catwoman in the 1966 theatrical film Batman: The Movie. After many kind words from West's fans and friends, Mayor Garcetti and Chief Beck walked down the City Hall steps to a massive searchlight. The signal was lit with a countdown, casting a giant black bat encompassed in a large yellow sphere onto City Hall. The ceremony was completed with Mayor Garcetti encouraging an impromptu sing-a-long of the TV series theme song.
Even as the crowd began to disperse, the signal continued to shine brightly, and throughout the night, various cheers and honking of car horns could be heard for miles. As Ward mentioned, the true Batman, Adam West, was certainly with us that night, and fans know he will always be.
 Note: Anyone unfortunate enough to miss this momentous occasion but still wants a chance at a goodbye to the beloved Adam West can experience his Batman on the big screen. A midnight Memorial Screening of Batman: The Movie will be held at the Vista Theatre on July 14, 2017.
SHORT CLIP OF THE CEREMONY:
THE ENTIRE CEREMONY: