Anime Expo 2018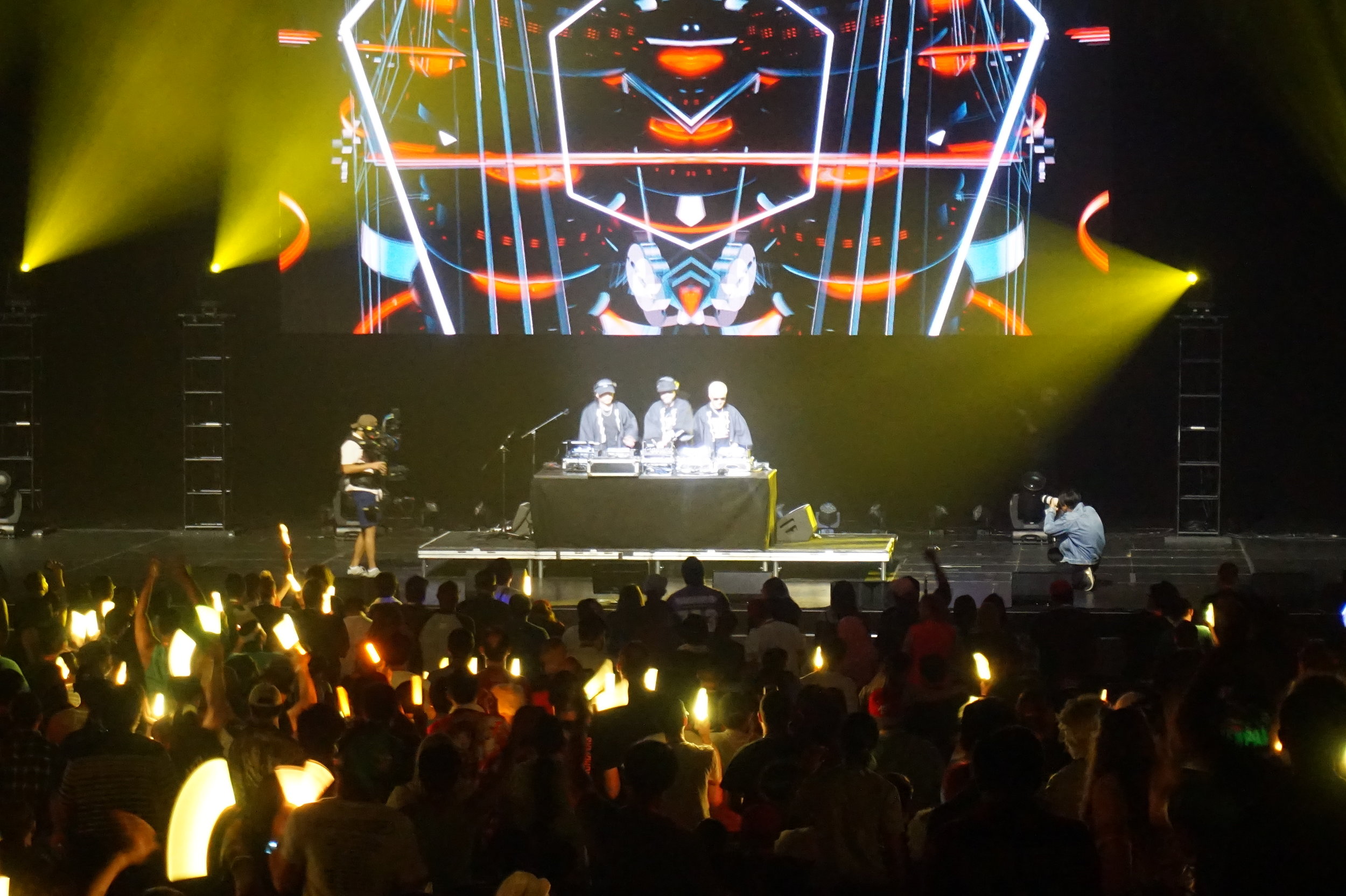 Author: Stefanie Bautista
Longtime J-Pop and J-Hip Hop fans were treated to one hell of a music festival at Anime Expo's first day at the Microsoft Theater: m-flo's Otaquest Live. The 5+ hour concert featured an all-star lineup straight from Japan: YUC'e, Masayoshi Iimori, TeddyLoid, Hachioji P, Crystal Kay, Yasutaka Nakata, PKCZ®, and of course, the legendary m-flo, a group made up of MC Verbal and DJ Taku Takahashi. The lineup was specifically curated by Verbal and Takahashi and created the perfect party to kick off the expo with style and a heavy beat.
Fans broke out their light sticks and grooved to their favorite tunes during DJ sets by YUC'e, Hachioji P, and TeddyLoid. Behind them, amazing visuals featuring familiar anime favorites were projected. Dance, EDM, Hip-Hop, and original anime soundtracks blasted through the speakers non-stop. Concertgoers were energetic as the theater was transformed by a J-pop music marathon that would bring any tired convention goer to their feet.
Crystal Kay, who hasn't aged a day since collaborating on "REEEWIND!" with m-flo in 2004, was ecstatic to perform in Los Angeles for the first time. Fluent in English, she greeted the crowd in English and Japanese, joking that "many of the fans probably speak Japanese by now!" She performed a short set of her hits from the 2000s and one from her new album, teasing the crowd until she came back on stage with m-flo later in the evening.
Fans of international successes Perfume and Kyary Pamyu Pamyu were also in for a treat as the DJ and producer responsible for them, Yasutaka Nakata, played a special mix of their hits that only those in attendance could experience. As he seamlessly blended the songs of both Perfume and Pamyu, anyone listening felt like they were in a Shibuya club on a packed night, listening to their favorite DJ play their favorite songs. If you have been to a Perfume or a Kyary Pamyu Pamyu concert, you know it's a big party filled with colorful visuals and laser beams everywhere. Yasutaka Nakata delivered just that and so much more.
PKCZ®, m-flo's dance group, DJ Daruma and DJ Makidai, brought hip-hop into the building with their heavy beats and lyrical skills. A teaser to m-flo's later set,  PKCZ® turned the Microsoft Theater into a basement party that felt like a night out in Tokyo, getting everyone in the room head boppin' and hyped up to 100.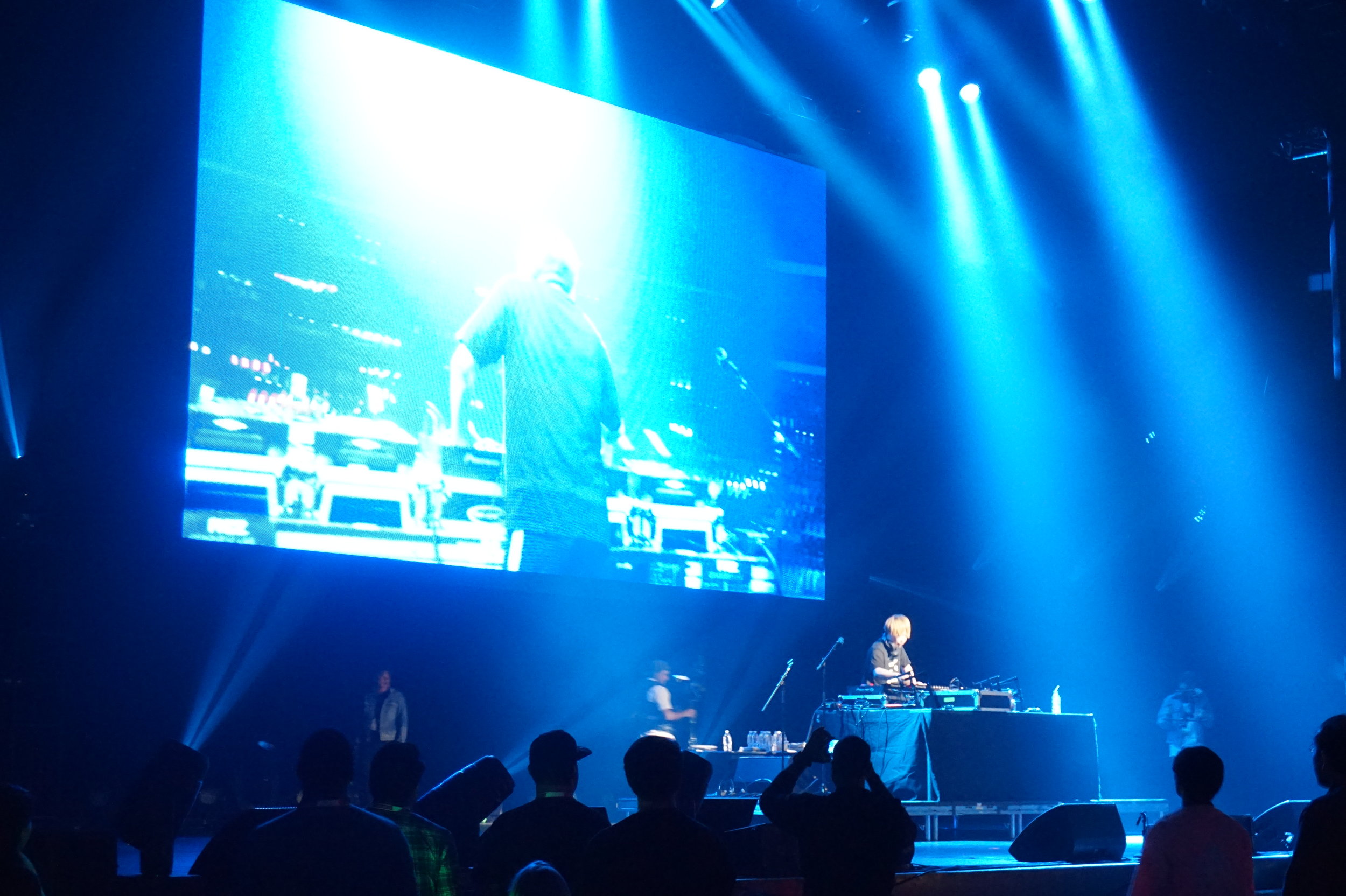 M-flo closed out the show with founding member DJ Taku and, as an extra special treat, the super-talented LISA, one of the original members of m-flo before her departure in 2002. She helped Verbal and DJ Taku bring everyone to their feet with throwback jams from their early albums, at one point mixing iconic songs like "How You Like Me Now" and "Come Again" into songs from their current album (which by the way features the return of LISA as well). Fans were treated to live versions of "Miss You" and "The Love Bug" despite the absence of the many guests that m-flo has employed over their many albums, remixing the songs energetically to satisfy fans old and new. Crystal Kay (as promised) popped into m-flo's set to bless the crowd by performing "REEEWIND!" from the "m-flo Loves" series in 2003.
As one of the few J-Pop/J-Hip-Hop concerts to be a part of the Anime Expo lineup, Otaquest did not disappoint. Filled with hours and hours of music and what I felt was a big shiny window into Tokyo clubs and Shibuya nightlife, it was everything that fans of both Anime and J-Pop wanted and needed for 2018. The different musical dimensions that m-flo and his lineup of top artists brought to AX proved that fans attending the expo don't just love anime and anime music; they adore Japanese music as a whole. We hope to see more of our favorite Japanese artists perform in the coming years at Anime Expo!