Anime Expo 2018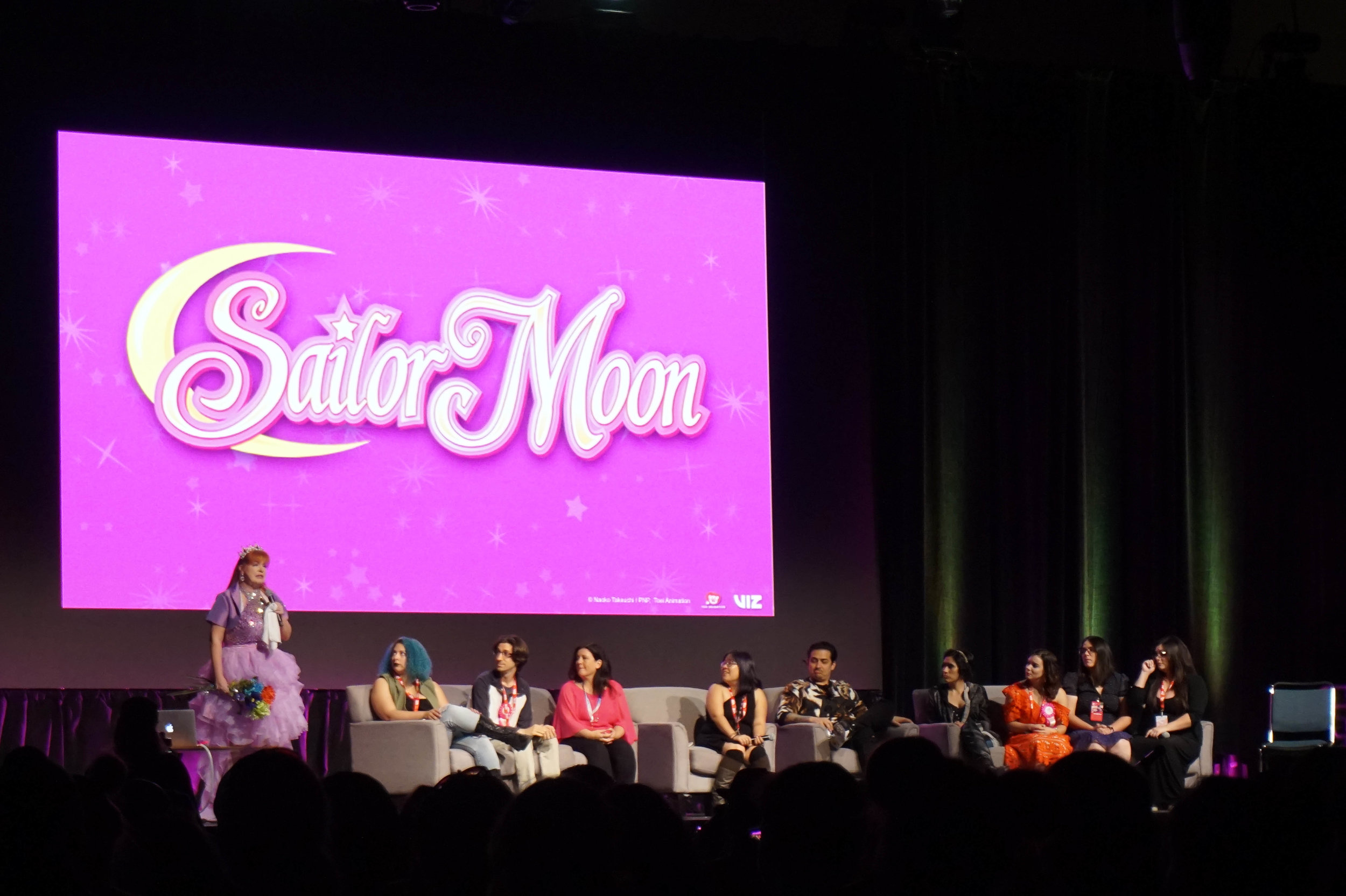 Author: Stefanie Bautista
It's always a great day when Anime Expo hosts its Official Sailor Moon Panel, a 4-day celebration of all things Japanese animation. Moonies (Fans of the Sailor Moon franchise) treat it as an unofficial Sailor Moon day; this year was no exception.
Now in it's 5th year, the Sailor Moon panel took over the Main Events Hall of the Los Angeles Convention Center on Saturday, July 7, 2018, at 10:00 AM. Of course, the early start time did not deter Moonies of all ages from transforming into their favorite Sailor Senshi and gathering with hundreds of other fans to celebrate the beloved anime.
Although the original Sailor Moon anime ended in 1997, the popularity of both the manga and anime has transcended multiple generations, having a rebirth in 2014 with Sailor Moon Crystal. Crystal follows the original storyline of the Sailor Moon manga, with a fresh new animation style and story pacing, which has attracted younger fans.
This year's panel was filled with exciting announcements and great giveaways from Kodansha for all the fans in attendance. Sailor Moon, the manga, is celebrating its 25th anniversary, and with that, The Sailor Moon Eternal Editions have been released throughout the year. These special colorized editions of the original manga series include new artwork from creator Naoko Takeuchi, and fans are anticipating Volume 3 this fall.
The original editor of the manga series, Fumio Osano, graced us with his presence at the panel and provided exclusive merchandise from Japan at the Kodansha booth, including a special version of the Moon Crescent wand from Sailor Moon R and previews of art from the upcoming manga release.
Osano gave us his thoughts on the impact that Sailor Moon has had on American audiences, noting that he thinks Sailor Moon became so popular because of "the recklessness of the Takeuchi-san [the creator]…that it is very relatable and diverse and that the risks she took in storytelling still appeal to all girls and fans all over the world."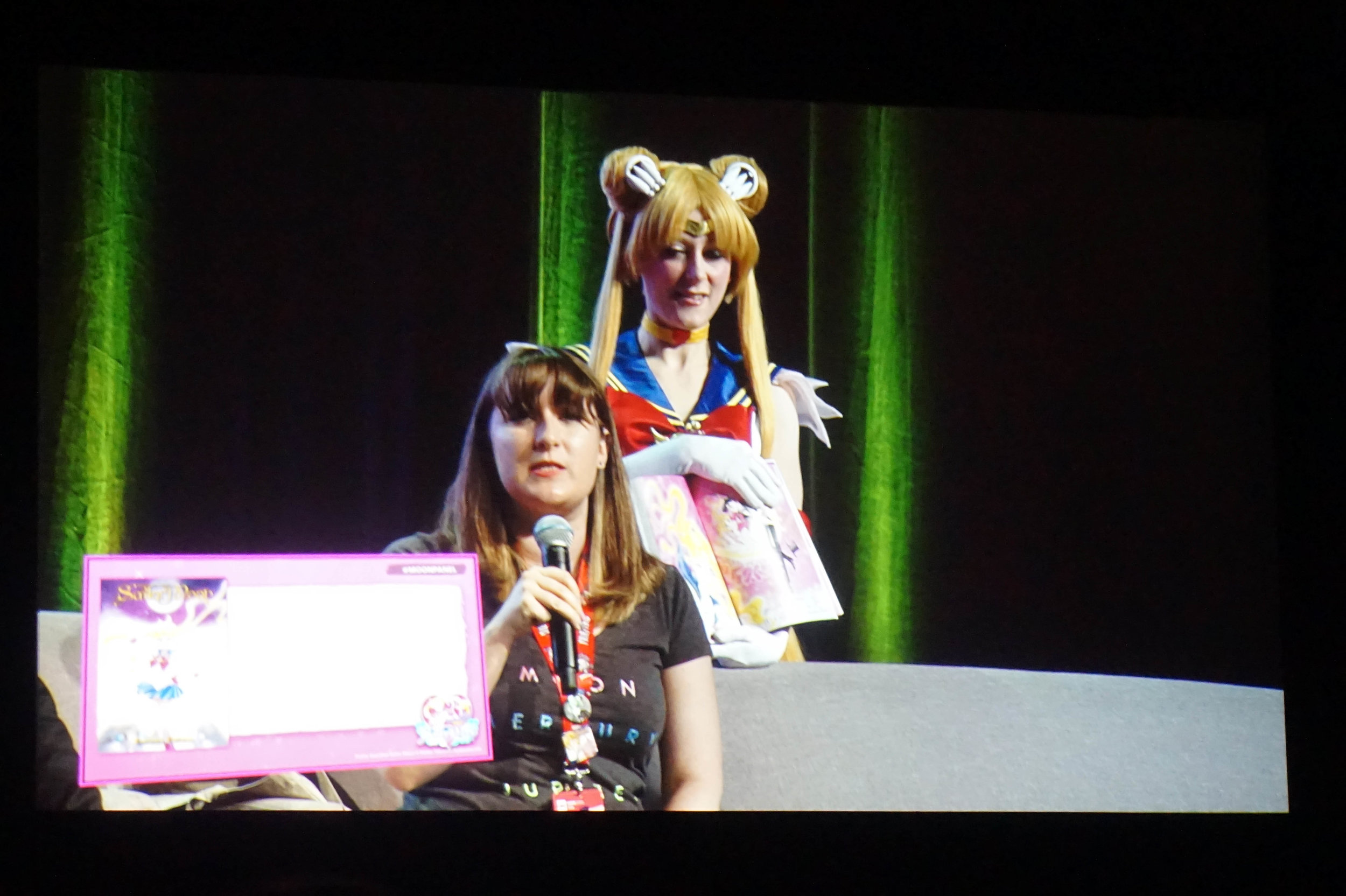 All the voice actors from the English dubbed versions were present, filling the panel with laughs and special games. They all walked in with their respective characters in cosplay and provided great energy to the panel. Stephanie Sheh, who voices Usagi herself, admitted canceling her vacation to Europe to be with all the fans!
Of all the questions panelists were asked, one brought out the most heartfelt responses from the cast. "Keeping up with the theme of SuperS, what is your beautiful dream?" A more serious question than the others, the actresses and actors approached it with some well-thought-out answers. Cast members reached into their own lives.
Sailor Neptune wished for there to be no negativity in the world, be positive, and be good to each other. Sailor Jupiter wished to have four kids, a house in London and LA, and to be like Tina Fey so people would approach her and beg her to help out on a TV show.
Tuxedo Mask said that, after having a little girl, his dream is for her to have all the opportunities he had growing up, regardless of who she becomes as an adult. Sailor Uranus said was blessed just to be doing events like AX and touching so many people's lives through the Sailor Moon franchise.
Sailor Chibi Moon told us that her beautiful dream would be for everyone to realize that we are all the same. Sailor Venus said that voice acting was an achievement beyond her wildest dreams, so her dream now is to be receptive to whatever life brings her with confidence and for everyone to bring whatever light they have and light everyone else in their lives. Finally, Sailor Moon said she dreams that as a nation, over 50% of registered voters vote!
Everyone, including myself, feels the pure heart energy that resonates strongly in the Sailor Moon Series. As fans, we all see Usagi and her friends continue to fight for love and justice against all odds. The panelists, the guests, and the moderator reminded us with their responses that we need to be more like Usagi and the scouts; to keep fighting for our beautiful dream no matter what it is, big or small.
We were all then treated to a world premiere: the first episode of the Sailor Moon Super S Dark Circus, fresh from the editing floor and featuring almost all of the voice actors we'd been so lucky to meet. The panel concluded with hundreds of us doing what we love best: watching Sailor Moon battle her enemies in the name of love and justice. And we all got to experience it together as a fandom family.