E3 2017
Author: Billy Madden
Ever since I was a kid, I have always loved video games. I got my first console, the NES (Nintendo Entertainment System) 1989. This led to the Sega Genesis, Nintendo 64, PlayStation 2, PlayStation 3, PlayStation 4, Wii, Wii U, to the (was) current Xbox One. Obviously, I am a gamer, and I don't see a time in my life when I won't be.
This year I attended the coveted convention, the mothership for every super-gamer-nerd, called E3 (Electronic Entertainment Expo) at the Los Angeles Convention Center. This premiere event for gaming fans worldwide includes demos, unveilings of new consoles, and limited edition access codes for unlocking various special characters or maps in favored games. Spanning for three days this year, it was from June 13 to 15, 2017. I've only attended one other time, in 2011, when Nintendo unveiled the Wii U. Back then, this convention was only open to people in the industry. A big thanks to my brother, Jamey, who got me passes that year.
This highly anticipated event is open to the public should they purchase a ticket for around $300. Luckily, my good friend Bryan gifted me two passes for my girlfriend, Loreena, and me to attend. He worked for a gaming company in northern California and knew my love for video games. 
Upon entrance to the convention center, visitors are greeted by the intimidating soldier from Call of Duty: World War II. It was quite an impressive banner, and this picture does no justice.
Seasoned convention attendees often plan out their trips. Know what you want to see and know where you want to go. I had a checklist of things I wanted to see (and play) in a specific order: The New Xbox One X, Call of Duty: WWII, Sea of Thieves, the new Uncharted game, and the new Mario game. I also hoped to stop by every booth because this experience doesn't happen often!
Unfortunately for me, I thought the show would go until 10 pm. Otherwise, I would have arrived sooner than noon. At around 4:45 pm, I discovered it was only open for another 15 mins. It was a huge disappointment that I could not check everything off my list, but honestly, it was a gift to have the opportunity to tackle a few items. I feel I would have been more prepared had I arrived earlier.
Once inside, we were immediately greeted by cosplayers from the PlayStation 4 exclusive game Horizon Zero Dawn. It was the main character, Aloy, with a robotic dinosaur.
Moving into the hall, I was super excited to get a glimpse of Microsoft's 4K beast initially titled "Project Scorpio," the Xbox One X. I asked someone waiting in line to play the new Crash Bandicoot game where the Xbox booth was located, killing time the way a gamer is supposed to. Soon it was only an escalator length away. The closer I got, the more excited. Finally inside, with the giant company logo hanging above me, I began to feel panic as I frantically looked around, and I couldn't find the Xbox One X on display. After some breathless moments, I asked one of the crew members where it was on display. I was so eager to get inside that I ran-walked past where it was prominently displayed.
There it is, the Xbox One X. The visual, physical aspect was kind of underwhelming in person, but honestly, I knew that going in. I wanted to see a demo of the 4K console in action. I asked where I could play it, and it turns out that all the consoles used to play the games on display were using the Xbox One X developer's kits. They looked like the white Xbox One S consoles with a little extra something added onto them.
My girlfriend and I then got in line for the demo of the Xbox One X in a makeshift theatre that was showing off the goods. As we were waiting in line, I saw an unoccupied game called Brawlout, so I took the opportunity to hop on it for a few minutes just to say that I have played the Xbox One X. The game was nothing special. It was a clone of Nintendo's Super Smash Bros with a 4K coat of paint and new skins. It looked great but played the same as Nintendo's offering.
Once we got inside the theater for the Xbox One X demo, the team handed the presentation off to the Minecraft gang to show us how it looked in 4K on the new Xbox One X. It was beautiful looking with the new "super duper" graphics pack (yes, it is called that). Truthfully I do not play Minecraft, as it confuses me, causing me to feel inferior to the kids running circles around me. Either way, the 4K revamp of Minecraft is truly a visual improvement.
After Minecraft, we were treated to Gears of War 4 with a 4K upgrade. Paired with the Dolby Atmos sound system, the demo was impressive. The audio and visual coupling was truly a marvel. Wrapping up the demo was the new Forza 7 game, which was equally impressive.
Vets of the convention scene will tell you the thing you will see the most is lines. This causes everyone to make sacrifices to their "need to see" list. I knew I wanted to try the upcoming exclusive, Sea of Thieves, but I had to cut it when I learned the wait time was a couple of hours. My must-do was Call of Duty: World WarII until I found out the wait time was over 4 hours. Unlike my buddy Cameron, who waited hours to get his hands on the upcoming Destiny 2, I had to cut my losses. I did, however, get to see the game in action, drinking in the graphics from the sidelines, and I am eager for its release in November.
The Ubisoft section was pretty cool! I saw people play the new, highly anticipated Far Cry 5 game! As well as the sequel to South Park's Stick of Truth… The Fractured but Whole game! (Be sure to read that game title slowly..) Here are some pics from the Ubisoft booth: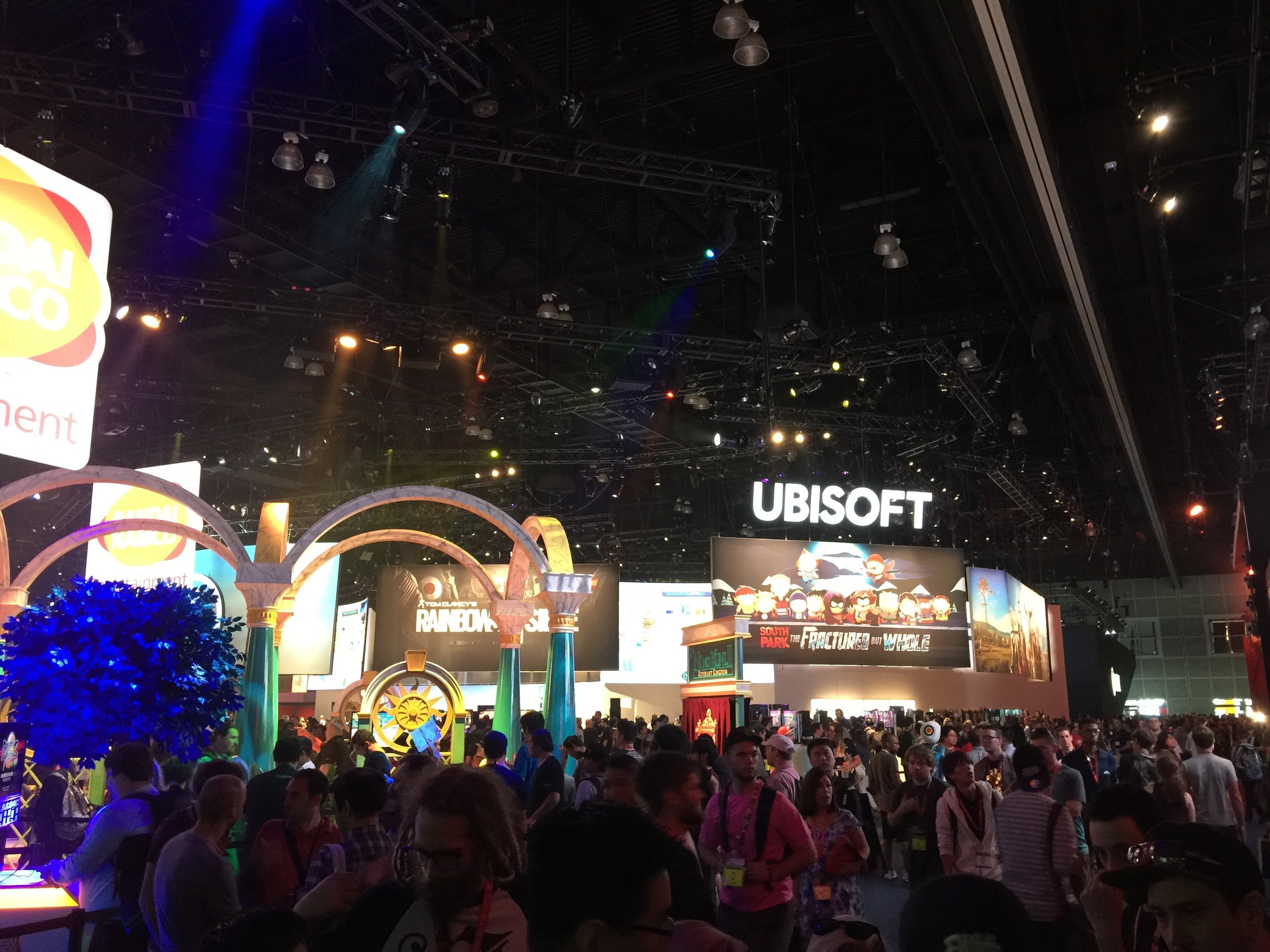 Next to the Ubisoft booth, there was Bethesda. They were touting the new Wolfenstein game, Wolfenstein: The New Colossus, and the new Quake game on PC, Quake Champions. Though the Wolfenstein line was too long, the Quake Champions line was manageable, so we decided to play it. I haven't played a PC game in over a decade and was scared to look like an idiot in front of hardcore PC gamers. Surprisingly the crowd in line was fun and chill.
The Bethesda guys kept it loose while we waited by cracking jokes and passing out pins. They even gave us Quake hats after playing the game. Joining that line was completely worth it. The gameplay brought back memories of Counter-Strike on my old PC. Although I still prefer gaming on a console, playing on a PC strangely felt normal again. Could have been the amazing PC they had it running on? The game ran at a beautifully smooth 60 frames per second. It definitely was not a cheap PC.
After Quake, we wandered off to explore some more booths! We ran into a dragon from the Shadow of War game but decided to wait in line to take a picture with it. Quickly I realized that time was dwindling, and all that was left to do was to snap a few good shots. Ultimately, I ran out of time to see the PlayStation and Nintendo booths. Even though I could not check off everything on my list, I still had a great time looking at all the new games! E3 is a MUST-SEE for anyone in the gaming community. You'll meet others enamored with the same passion for games, and just that experience alone is worth it.