Grade: A+
The Tomb Raider franchise was introduced to my generation via the 1996 classic video game called Tomb Raider, which landed on the platforms of the original Sony PlayStation and Sega Saturn. The character appeared on the big screen via Angelina Jolie in the movie Lara Croft: Tomb Raider 2001. She encapsulated the sexy and sassy Croft with precision, echoing the character from the game. Prepubescent youth were drawn not only to the character's athleticism and affinity with weapons, they were especially captivated by her voluptuous physic. Needless to say, Lara caused quite a stir.
In 2013, around the launch of the Xbox One, a new reboot of Tomb Raider was born. Instead of focusing on sexual temptations, the new Croft was toned down in her appearance and amped up with her attitude. The 1996 Croft would seduce you, while the 2013 Croft kicked your ass without an introduction. No matter what version of the character the public has given, the creators of this franchise have proven to give a heroine that countless generations have loved.
Now comes the 2018 cinematic reboot of Tomb Raider, with actress Alicia Vikander, whose portrayal of the iconic hero mirrors the 2013 video game version; no fluff, just pure ass-kicking. In this movie, a prequel of sorts, Lara embarks on a globe-trotting adventure to piece together a dangerous puzzle and prevent a deadly curse from spreading across the globe.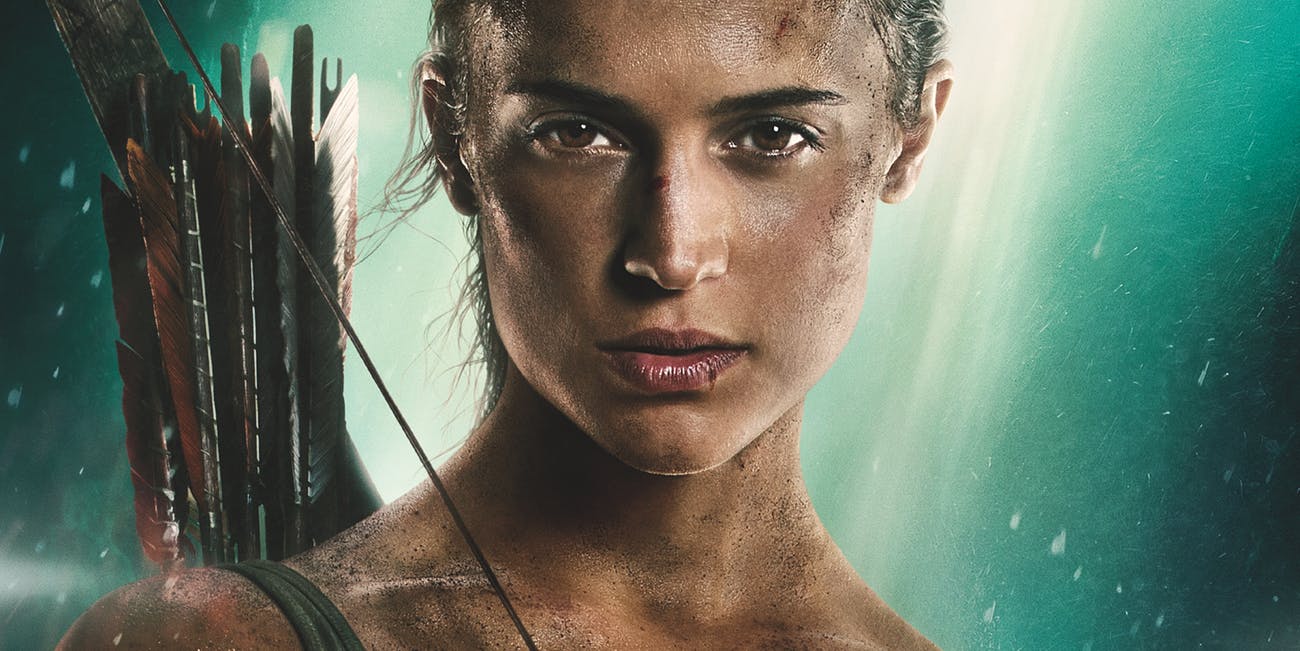 Vikander does a great job acting as a version of Lara Croft, learning her craft with both sass and grace. She acts opposite Walter Goggins, who plays Mathias Vogel, a person who is hungry to unleash the curse. Goggins always plays a terrible person because he is great at it. His role in Tomb Raider is no exception.
With a run time of just under two hours, you will be on the edge of your seat for the entire duration. The movie is in keeping with the principal media the character was crafted in as the video game adage, "Whatever can break, will break." Honesty, I hope Vikander bought her stunt double something nice because audiences will see Lara fall and take beatings from the villains she encounters. The movie is graphic and quite violent for only a PG-13 rating.
I was fortunate enough to attend the Los Angeles premiere of Tomb Raider at the world-famous Grauman's Chinese Theater, which totes an IMAX screen. Tomb Raider is big, loud, and deserving of viewing on an IMAX screen. The cinematography was done well, making you feel as if you were right alongside Lara on her wild ride. The score was incredible, too, and added to the movie's intensity.
If you are a Tomb Raider fan, old or young, Vikander's transformation of Lara Croft is well worth the outing. I was craving an all-out action movie, and Tomb Raider delivered in spades. I eagerly await Lara's next adventure!
Rated: PG-13 (for sequences of violence and action and some language)
Director: Roar Uthaug
Screenwriters: Geneva Dworet-Robertson, and Alastair Siddons
Starring: Alicia Vikander, Dominic West, Walton Goggins, Daniel Wu, Sir Derek Jacobi, and Kristin Scott Thomas
Genre: Action, Adventure
Synopsis:
Lara Croft (Alicia Vikander) is the fiercely independent daughter of an eccentric adventurer who vanished when she was scarcely a teen. Now a young woman of 21 without any real focus or purpose, Lara navigates the chaotic streets of trendy East London as a bike courier, barely making the rent. Determined to forge her path, she refuses to take the reins of her father's global empire just as staunchly as she rejects the idea that he's truly gone. Advised to face the facts and move forward after seven years without him, even Lara can't understand what drives her to solve the puzzle of his mysterious death finally. Leaving everything she knows behind, Lara searches for her dad's last-known destination: a fabled tomb on a mythical island that might be off Japan's coast. But her mission will not be easy; just reaching the island will be extremely treacherous. Suddenly, the stakes couldn't be higher for Lara, who—against the odds and armed with only her sharp mind, blind faith, and inherently stubborn spirit—must learn to push herself beyond her limits as she journeys into the unknown. If she survives this perilous adventure, it could be the making of her, earning her the name tomb raider.