Dapper Day Spring 2019
Author: Ariel Landrum
With a name like Ariel, I can't help but be a Disney fan, and this Ariel is always trying to find new ways to enjoy Disney Parks. A few years ago, I became a regular at the fan-created event Dapper Day. Held this past Sunday, April 14, 2019, this event allows Disney lovers to sport their dapper ware inspired by concept art and photos of Disneyland in the '50s.
Yes, this was the same day as the opening episode of the final Game of Thrones season, and yes, I had to avoid social media for two whole days because I missed it. My love for Disney and patterned dresses surpasses my love of Westeros.
Now that I've become a veteran of this biannual park outing, I assumed I knew all there was to know about being Dapper at Disneyland. I have been going since 2017 with my best friend Stefanie, and last year; I even enjoyed the Dapper Day Expo for the first time. The "newness" of the experience was bound to wear off, right? Wrong!
I was attending this fancy affair with a date for the first time. Though this may seem like no biggie, it was rather stressful leading up to the days of the event. Why? Because of matching outfits. That's right. In previous years, I'd only dressed myself. Now, I chose to dress two.
Some of my favorite photos in the park are couples in themed outfits. Their creativity is endless! Disney characters inspire some, while eras may inspire others. However, it hadn't occurred to me that I would someday be on the other side of the camera.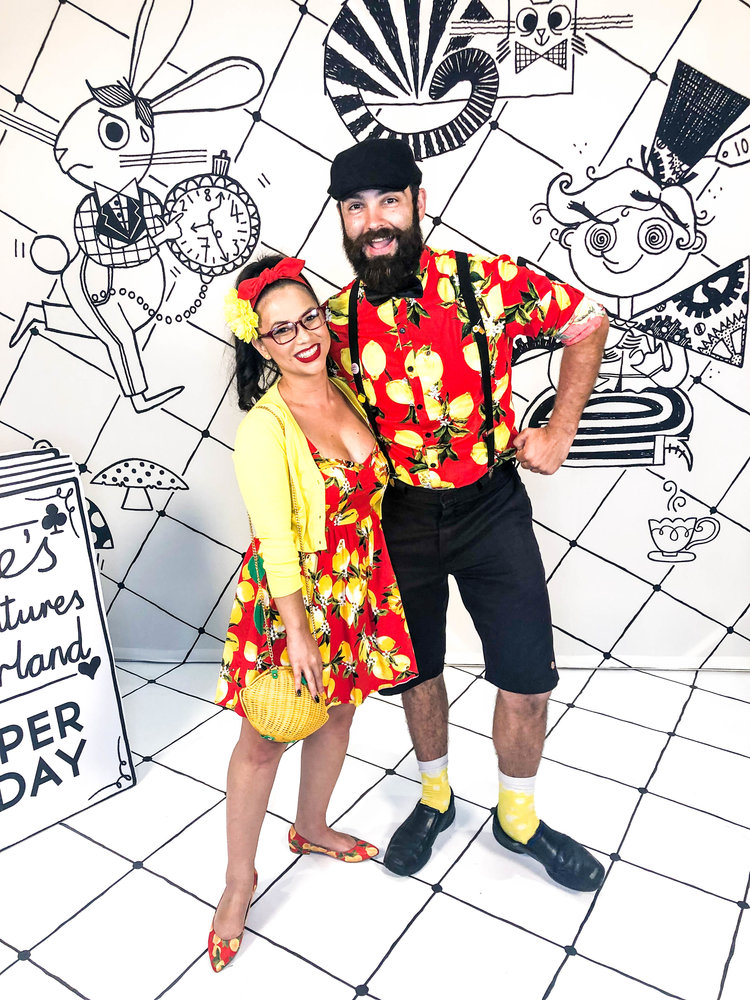 Casual Dress
In February, I decided to wear a short lemon floral print dress (I couldn't find an exact match) that I had bought from Unique Vintage two years prior. This lovely piece sat in the darkness of my closet, unworn, and I probably assumed it was forgotten. This whimsical affair would be the perfect day to don this piece. I casually wrote down the items missing from my ensemble, knowing I had plenty of time in March to gather my wishlist.
Late March rolls around, and I get a call from the handsome gent I'm dating, who's been working out of town since November of last year. We had just returned from a fun vacation in Mexico, and I knew I wouldn't see him again until the end of April, possibly May. He calls me and says, "Hey, hun, I will be around for Dapper Day! Be my date?"
Prepping Panic
Of course, I was ecstatic! A date, to Disneyland, in coordinating outfits? What girl would say no? It wasn't until after the end of the call that I realized we must coordinate! Now, as previously mentioned, I bought my dress two years ago. It certainly wasn't "in season" anymore, and to my knowledge, I'd never seen matching men's attire! Was my poor dress going to spend another year in the closet? And wait, he won't be back until two days before Dapper Day, so whatever outfit I put together, I have to coordinate from afar?
I messaged my best friend, Stef, asking for advice. She has been happily married for years and has attended previous Dapper Days with her husband. She coordinated his outfit from afar, as he was stationed in Jordan.
After much debate, we decided if I couldn't find a similar print, we could have him wear a red or a yellow shirt, which at least would match color-wise.
Amazon to the Rescue
I Googled around for the next few days, looking up inspirational photos of men's wear. I knew Anaheim in April would be hot, so I wouldn't have him wear a three-piece suit. I decided on suspenders, a bow tie, and a newsboy hat. I saw many photos of men wearing these pieces with rolled-up shirt sleeves and shorts, and they certainly looked dapper.
I also searched on Amazon for anything "lemon" themed. I found lemon enamel pins, a yellow cardigan, earrings, and the most adorable lemon purse by Betsey Johnson. As I continued to finalize my queries, I searched "lemon red pattern" and was blessed with these amazing flats from Chinese Laundry that looked exactly like my dress. I'd long since learned that flats are the key to foot happiness on Dapper Day.
As I typed in the same search sequence with the added "men," the Dapper Day Gods blessed me with the most amazing button-up shirt with THE SAME PRINT as my dress! And to top it off, it was available via Prime.  I was more hyped for Dapper Day than ever before.
Full of Zest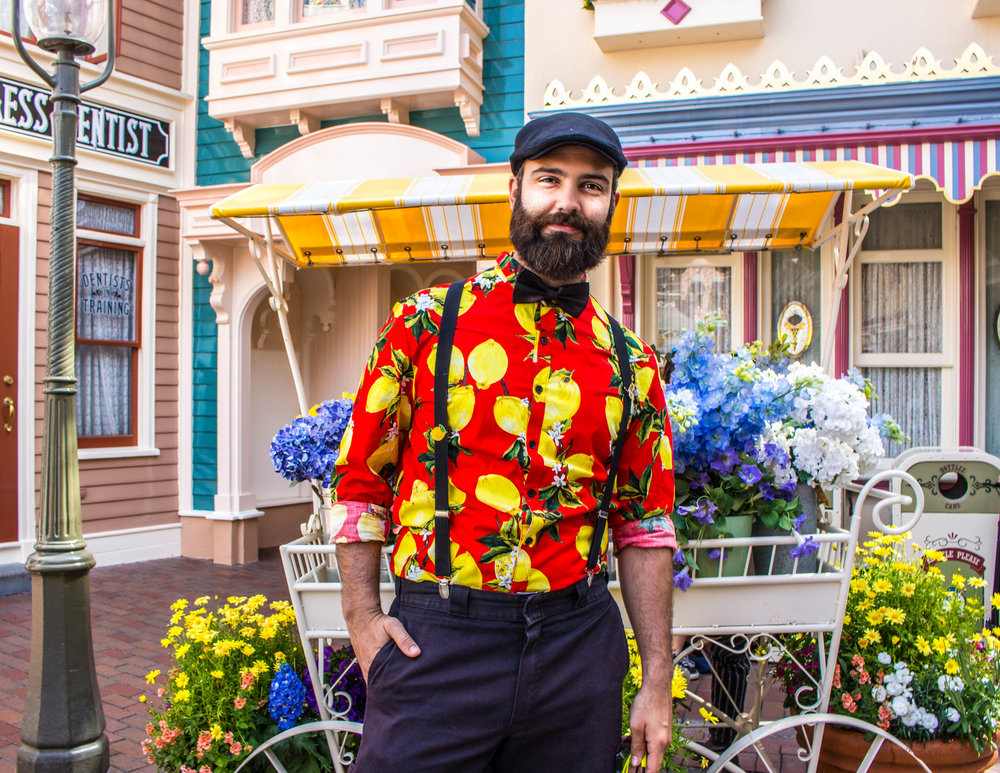 The day arrived. James (the handsome gent I mentioned earlier) and I got dressed. He added tall yellow socks to his outfit, and we were out the door. Though we missed the opening ceremony, we did get time to stroll around the park, finding a cute location by Starbucks on Main Street for me to pose him before meeting up with our friends. We also stopped by the Dapper Day Expo, talking to other guests as they readied their looks. We received numerous compliments on our ensemble.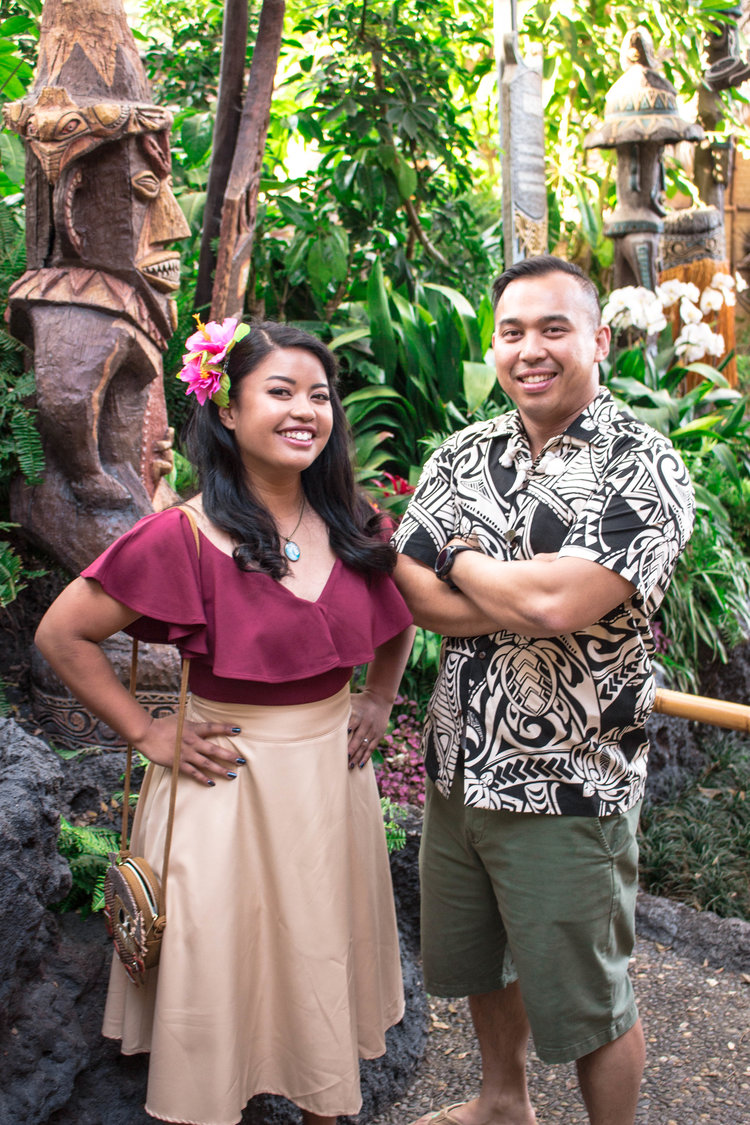 Throughout the day, we found many places to take photos. We took inspiration from backdrops that matched our color scheme (red and yellow). We also took a bunch at the iconic Disney California Adventure Ferris wheel. Per tradition, I took photos of Stefanie at the Enchanted Tiki Room. She and her husband Disneybounded as Moana and Maui, which made our go-to spot the perfect setting.
Unlike other years, I rode many rides, which I usually avoid as I get motion sickness. The rides are James' favorite part of Disney, so I had to pack some Dramamine and jump on. I mean, the man did wear a loud lemon print shirt for me!
Check out more photos from Spring Dapper Day and Dapper Day Expo!