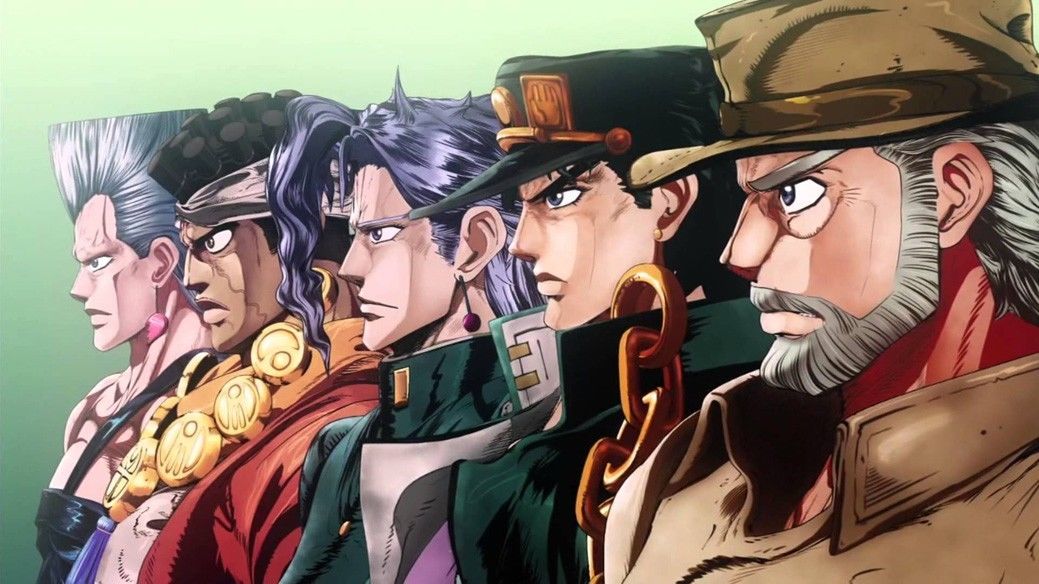 Author: Newsroom
San Francisco, CA, August 13, 2018 – VIZ Media, LLC (VIZ Media), a premier company in the fields of publishing, animation distribution, and global entertainment licensing, announces the debut of the JOJO'S BIZARRE ADVENTURE anime streaming event on Twitch, the world's leading social video service and online community for gamers.
The first three seasons of the acclaimed multigenerational action adventure property begin streaming today through August 25 on VIZ Media's Twitch channel: twitch.tv/viz. The 113 episodes on Twitch constitute the first three seasons and multiple story arcs of the series (PHANTOM BLOOD, BATTLE TENDENCY, STARDUST CRUSADERS, and DIAMOND IS UNBREAKABLE). Fans can enjoy the subtitled stream and interact with the vast online community at 10 AM PST each day with an encore stream broadcast at 3 PM PST. The stream will only be available for audiences in US and Canada.
"Twitch's gamer community has a long-standing affinity for anime based on the passion seen during anime-related shows, movies, and games streamed on our service," said Jane Weedon, Director of Business Development at Twitch. "Thanks to VIZ, one of the most popular brands in the anime space, we can continue to feed that passion with over a hundred episodes of JOJO'S BIZARRE ADVENTURE."
"Twitch delivers a powerful shared interactive viewing experience with a large contingent of anime fans within its community," says Candice Uyloan, Senior Director, Marketing at VIZ Media. "The JOJO'S BIZARRE ADVENTURE event on Twitch will allow fans to celebrate the series and join the conversation unlike ever before." 
JOJO'S BIZARRE ADVENTURE Twitch Air Dates:
Season 1, PHANTOM BLOOD
August 13th – Episodes 1-9
Season 1, BATTLE TENDENCY
August 14th – Episodes 10-18
August 15th – Episodes 19-26
Season 2, STARDUST CRUSADERS
August 16th – Episodes 1-9
August 17th – Episodes 10-18
August 18th – Episodes 19-26
August 19th – Episodes 27-35
August 20th – Episodes 36-44
August 21st – Episodes 45-48
Season 3, DIAMOND IS UNBREAKABLE
August 21st – Episodes 1-5
August 22nd – Episodes 6-13
August 23rd – Episodes 14-22
August 24th – Episodes 23-31
August 25th – Episodes 32-39
JOJO'S BIZARRE ADVENTURE is based on Hirohiko Araki's critically acclaimed Shonen Jump manga series that depicts the multigenerational exploits of the heroic Joestar family and their never-ending battle against evil. In the anime series, the Aztecs – the people of the sun – once prospered in ancient Mexico. They had a bizarre stone mask that brought eternal life and the power of a domineering ruler to he who wore it, but at some point, the mask disappeared without a trace. Years later, in the late 19th Century, when men's lifestyles and outlooks on life were quickly changing, Jonathan Joestar and Dio Brando meet, and the stone mask binds them to a rather curious fate…
VIZ Media is the master distributor for the JOJO'S BIZARRE ADVENTURE anime series and also publishes print and digital editions of the JOJO'S BIZARRE ADVENTURE manga series (rated 'T+' for Older Teens). VIZ Media is also the North American master merchandise licensee for JOJO'S BIZARRE ADVENTURE.
For additional information on JOJO'S BIZARRE ADVENTURE and other anime and manga titles published by VIZ Media, please visit viz.com.