Author: Stefanie Bautista
The Oinkster, located in the charming neighborhood of Eagle Rock and one of the best burger joints in LA County, has a tried and true tradition based on the joy of eating unique burgers named "The Burgerweek Challenge." They develop themed burgers every year, and for a week, patrons can earn special edition pins, wristbands, and an original Oinkster T-shirt.
This year Chef Andre Guererro and the masterminds at the Oinkster created "Around the World in 7 Burgers" as this year's theme, which pulls flavors from different countries worldwide. Reflecting the ever-eclectic nature of Los Angeles cuisine, this year's Burgerweek was a perfect exhibition of what a homegrown burger joint with a big imagination can do. So read along as I fill my culinary passport!
Day 1: Make America Great
The First burger in the week-long around-the-world burgerlicious saga packed a solid punch that would rank up to Captain Ivan Drago himself. If that little "Rocky" reference didn't give away the theme, it's basically Russia served in a burger basket.
Ironically named "Make America Great," the chicken kiev patty came with a herb-butter center, wrapped with crispy panko breading and mushroom stroganoff gravy on top, all neatly nestled in between two super soft potato buns.
The presentation alone was enticing to say the least. Split open so you can see, the chicken patty was carved out in the middle to serve as a nest for the melted herb butter that was about to get spread all over your sammie- and mouth. I finished each delicious morsel without getting my hands and the table covered with sauce.
Day 2: Mangia Mia!
Allora! Tuesday's burger was an amalgam of everything that makes Italian food great: sumptuous, hearty, and full of love. This seasoned beef patty tossed in pomodoro, topped with Italian beef and pepperonata covered in a blanket of provolone cheese between two slices of Italian bread, definitely made me say, "Mamma Mia!"
All stereotypical Italian references aside, this burger captured the essence of romance that comes with any great Italian meal. Every aspect of the burger becomes a symphony of flavor that goes on and on with every bite. If you were wary, such as I was, that strips of meat on top of a burger is too much, you were delightfully proved wrong.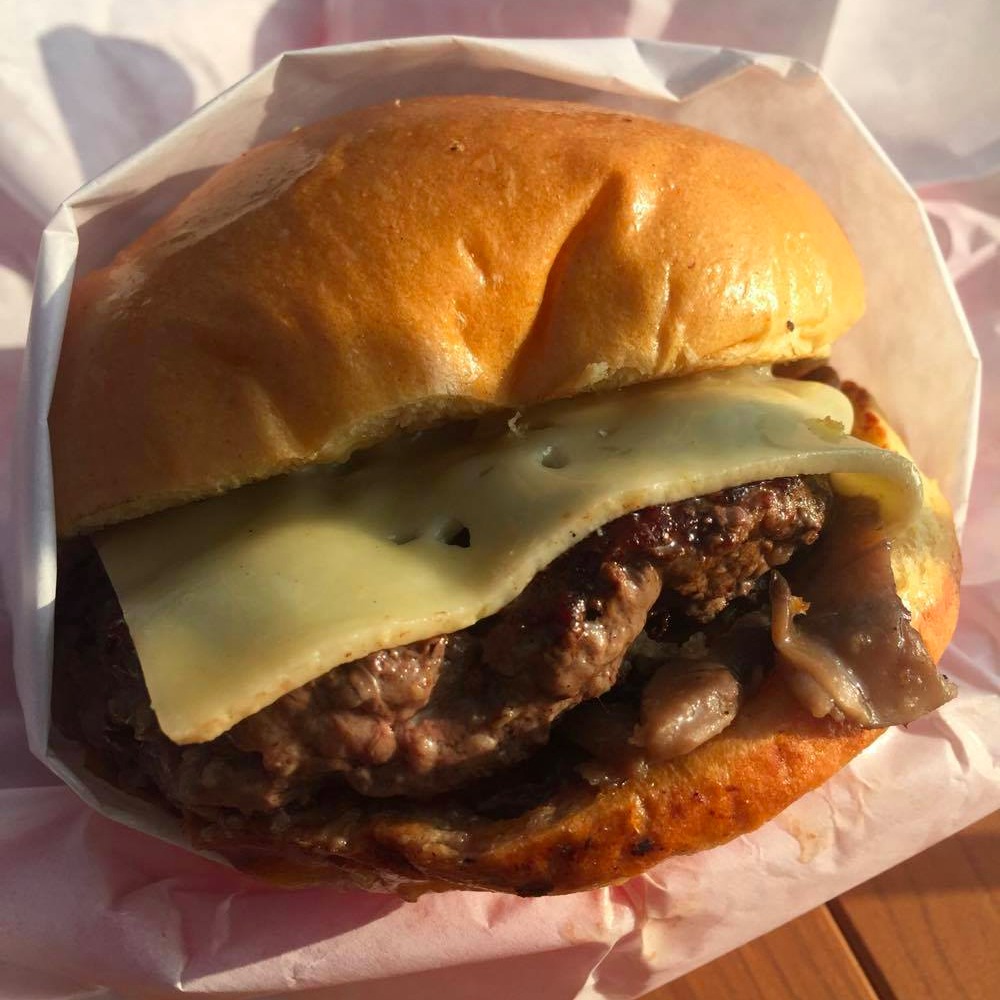 Day 3: Oui Love It!
Wednesday's burger took us on a short trip from Italy to France, where we were introduced to the delicious Oui Love It burger. French cuisine, through the lens of any Westerner, is the benchmark for refined flavors and the type of food you need to go "pinky-out" on.
The Oinkster brings those flavors down-home through a beef patty topped with bearnaise, the baby to hollandaise sauce. Hollandaise is normally found over eggs benedict and offers a rich, gravy-like texture to any protein. Being one of the five mother sauces in haute French cuisine, The Oinkster stepped it up for this one.
Covered with sauteed mushrooms and a smooth layer of Gruyere cheese and between two delicate brioche buns, this small but mighty burger packed the most flavor. I had to have a couple of moments of silence to absorb the bursts of flavor that I experienced with every bite and chew. All in all, this was a solid, flavorful burger that gave me more than I expected!
Day 4: Xibalba Burger
Thursday's burger highlighted the Mexican-inspired Xibalba burger (pronounced SEE-bal-bah), a large and mighty burger for any meat lover. Teaming up with the infamous Grill Em' All burger joint in Alhambra, Burger Week was now loaded with the biggest hurdle we foodies had to overcome. I decided to fast for the day after reading that the pambazo-style burger was topped with chorizo con papas, guajillo grilled buns, salsa verde, lettuce, pickled red onions, AND cotija cheese.
Pambazo is the name of Mexican white bread, and the dish is made with this bread dipped in a red guajillo pepper sauce. Imagine a behemoth of a sandwich filled with everything you love about tacos, burritos, and Mexican stews, all packed beautifully between two toasted buns.
The flavors attack your mouth when you take the first bite, loaded with meat, heat, and savory spices. The chorizo con papas, which sat like chili on top of the burger, could have been a dish with its thick-cut potatoes and chunks of spicy chorizo. My favorite part about this burger was the cotija cheese, and I kept thinking, "Why don't we put cotija cheese on ALL THE BURGERS?!" As someone who can't take spicy food too well, the cotija was a perfect cooling touch to an otherwise spicy burger.
Day 5: The Bicol Express
Friday took me back to the homeland with The Bicol Express burger. A Filipino-inspired burger, for those unfamiliar with Filipino fusion, it usually comes in the package of sweet longanisa patties and adobo-spiced meats. Chef Guererro, however, decided to take a deep turn and introduce bicol express, a spicy pork-based stew made with shrimp paste, coconut milk, and chiles. Combined with a pork patty, tomatoes, garlic aioli, and a soft, warm pan de sal bun. This burger defied all the rules I thought possible for Asian-Fusion burgers.
Easily one of the most popular dishes in the Philippines, Bicol Express isn't one of my favorites, mainly because the pinkish color that the shrimp paste gave it wasn't appealing to my eyes. However, this burger did not only justice to the dish but also made a fan out of me. This is an intermediate-level dish for anyone who is a newcomer to Filipino food, but if you're adventurous, you will not be disappointed.
Day 6: Seoul Food
Ahh, Korean food… as a native Angeleno, I know that Korean food never fails when it comes to comfort, depth, and complexity without feeling like you've paid an arm and a leg. Saturday's Seoul Food burger came with a house-made all-beef patty, topped with bulgogi (marinated beef strips), kimchi pickles, and traditional Korean salad on a pan de sal bun.
This burger didn't need a sauce to accompany it since the flavors were just oozing out of the bulgogi, and I wasn't complaining about the pan de sal bun after craving more from the previous day. The dish really felt like home. Think about the best collective Korean BBQ experience you've had: delicious sweet and spicy pickles in your banchan, savory and hearty bulgogi fresh off of the grill, and a bite of salad with that addicting Korean dressing. Take that, sandwich it in between two fluffy pieces of bread, and that's Seoul Food! Overall satisfying but not too over the top.
Day 7: Home Sweet Homeburger
After lots of meat, carbs, and everything in between, what better way to end Burgerweek than to throw every delicious food coma-inducing item you can think of into a burger? Insanity? Perhaps! Leave it to the masterminds of The Oinkster to make it worth the week-long struggle to make it to the end.
Sunday's Home Sweet Homeburger included a chicken fried beef patty topped with mashed potatoes, bacon country gravy, AND fried green tomatoes on a potato bun. As the anchor to this burger, the breading is perfectly spiced and never breaks away from the beef encased within it. The country-style mashed potatoes could have held their own as a Thanksgiving side dish, and the fried green tomatoes were the perfect "vegetable" to cut through all the carbo-goodness. Let's not forget the country gravy that was the essential glue bringing the whole thing together. I would bottle that up and put it sh*t on everything. This final meal topped off the culinary odyssey and literally brought it home.
And there you have it, Burgerweek 2017. This journey always leaves me wishing these burgers were regulars on the menu. Yet that's the real appeal of doing the Burgerweek challenge: the sheer fact that you might never taste these dishes again. The finality of it makes the experience more memorable. Ultimately, I finished seven days, earned seven pins, and grabbed my limited edition t-shirt.
To become a Burgerweek Vet, check out my Survivor Guide!
FOLLOW ME ALONG ON MY BURGER JOURNEY IN THE PLAYLIST BELOW!