WonderCon 2017
First published in Press Pass LA on April 3, 2017
Author: Ariel Landrum
SPOILERS ARE INCLUDED IN THIS ARTICLE!!
Reader beware!
Marvel's Agents of S.H.I.E.L.D. reached its climax for its fourth season four days after its WonderCon panel this weekend, Saturday, April 1, 2017. The action-packed series returned to ABC on Tuesday to air its 88th episode, "What If..", which answered the philosophical question, are people inherently good or bad? People often muse whether their identity was to change had they lived in a completely different world. The panel attendees were treated to an early premiere of this dystopian alternate reality that challenges the core of its main characters with this varied theme.
When panel moderator and Head of Marvel Television Jeph Loeb entered the room, he began to engage the crowd in a warm-up for cheers, asking each section to yell "Marvel's Agents of! S.H.I.E.L.D!" Show star Clark Gregg (Agent Phil Coulson) came onto the stage to instead change the chant to "Marvel's Agents of! H.Y.D.R.A.!".  This was the introduction to the nightmarish episode, where the agents are placed in The Framework previously used for brainwashing.
The lights lowered, the program started, and audible gasps can be heard as fans watched their idles' ethics altered, living in a world with a new ethos. With no time to heal from battling the Watchdogs, the heroes awaken in an unrecognizable world where H.Y.D.R.A. reigns supreme, mirroring today's 1984 politically heightened fears.
Viewers are transported into a world without mobile devices for open communication, only one controlled media source showcasing propaganda and half-truths about refugee Inhumans, and drones watching citizens. George Orwell would have been proud. As the lights returned, the feature ended with a tribute to the recently departed Bill Paxton, who portrayed John Garrett in the first season.
The afternoon show talk was remarkably full of fan favorites, to the point that there were too many chairs for the table. Along with Loeb and Gregg, executive producers Jeffrey Bell, Maurissa Tancharoen, and Jed Whedon were present. In addition, cast members Chloe Bennet (Daisy Johnson), Ming-Na Wen (Agent Melinda May), Iain De Caestecker (Agent Leo Fitz), Elizabeth Henstridge (Agent Jemma Simmons), Henry Simmons (Agent Alphonso Mack), Mallory Jansen (Madame Hydra), Natalia Cordova-Buckley (Yo-Yo Rodriguez), and Jason O'Mara (Director Jeffrey Mace) all squeezed on stage.
Unlike many other panels, this was the most personable and comedic. Before moving into the fan Q&A portion, Henstridge orchestrated everyone to sing "Happy Birthday" to Gregg, complete with a cake and candles, whose birthday was the next day. Gregg addressed the crowd, expressing gratitude for their constant faith in the show. Turning to new additions, like O'Mara and Jansen, he thanked them for deepening and adding diversity to the series. He even complimented the writers for having "superhero-sized balls," which has elevated the storyline this year.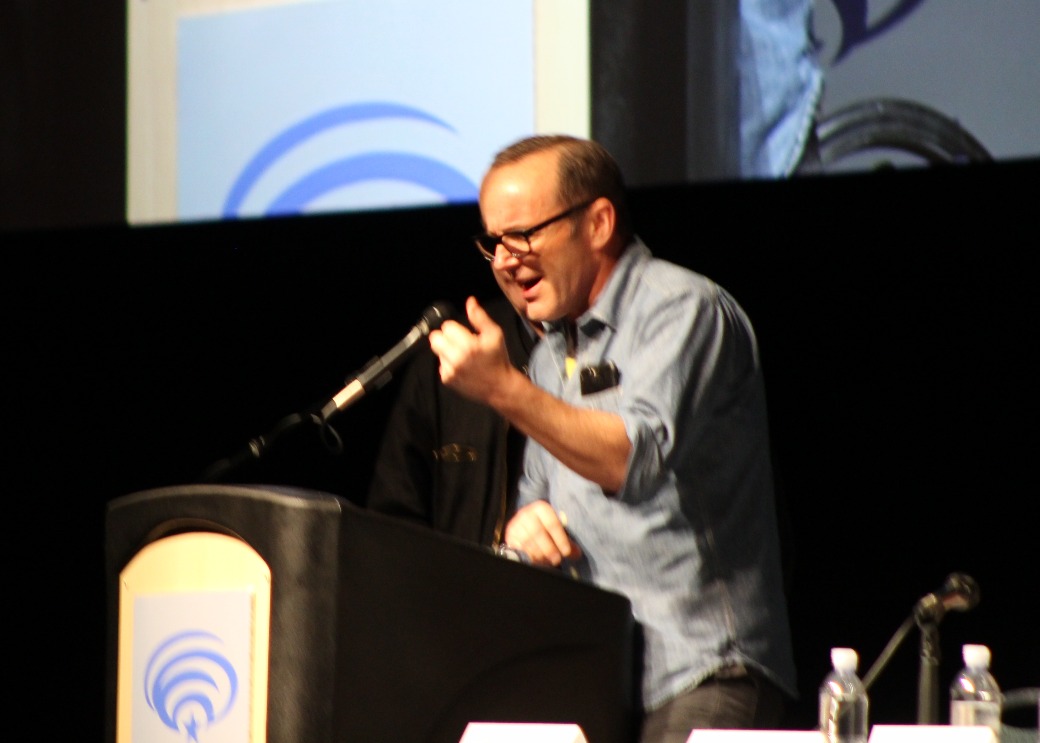 Fitz's unshakable moral compass transforms into a villain in this hypothetical world, while Ward is an emissary for the good guys. As an April Fool's Prank, when a fan asked De Caestecker about the team's modified personalities, he said he should call Brett Dalton, who cameoed in "What If.." to hear his thoughts. A hush fell over the room as De Caestecker pressed send on his cellphone and holds it to the mic.
Dalton answers but can't seem to hear, exclaiming a bad connection, suggesting, "Maybe I should go to you?" Out walks on stage Dalton as he answers the fan's question, "I finally get to have the hero arc that Grand Ward deserves." causing a frenzy of cheers and musical chairs. Once settled into an already cozy stage, the cast members agreed that having "original gangster Dalton" return was a "good throwback" to the show's beginnings.
Fans learned that although they may not see a Defenders-S.H.I.E.L.D. crossover,  Loeb is hopeful for a season five, although he was clear that the decision belonged to ABC. Cordova-Buckley and Jansen confessed that this was their first convention, extending their hands in appreciation to the fans and fellow cast members for "such a warm welcome." Both proclaimed they would return if invited again.
This plot is a true mind-bending mission for the agents. Literally borrowing from the pages of Marvel Comics tradition, this speculative world is as challenging to act as it is to write. Wen said, "Often, it's confusing for me to try and figure out," referencing the new incarnation of her character. She added, "There's a mind-f with The Framework."