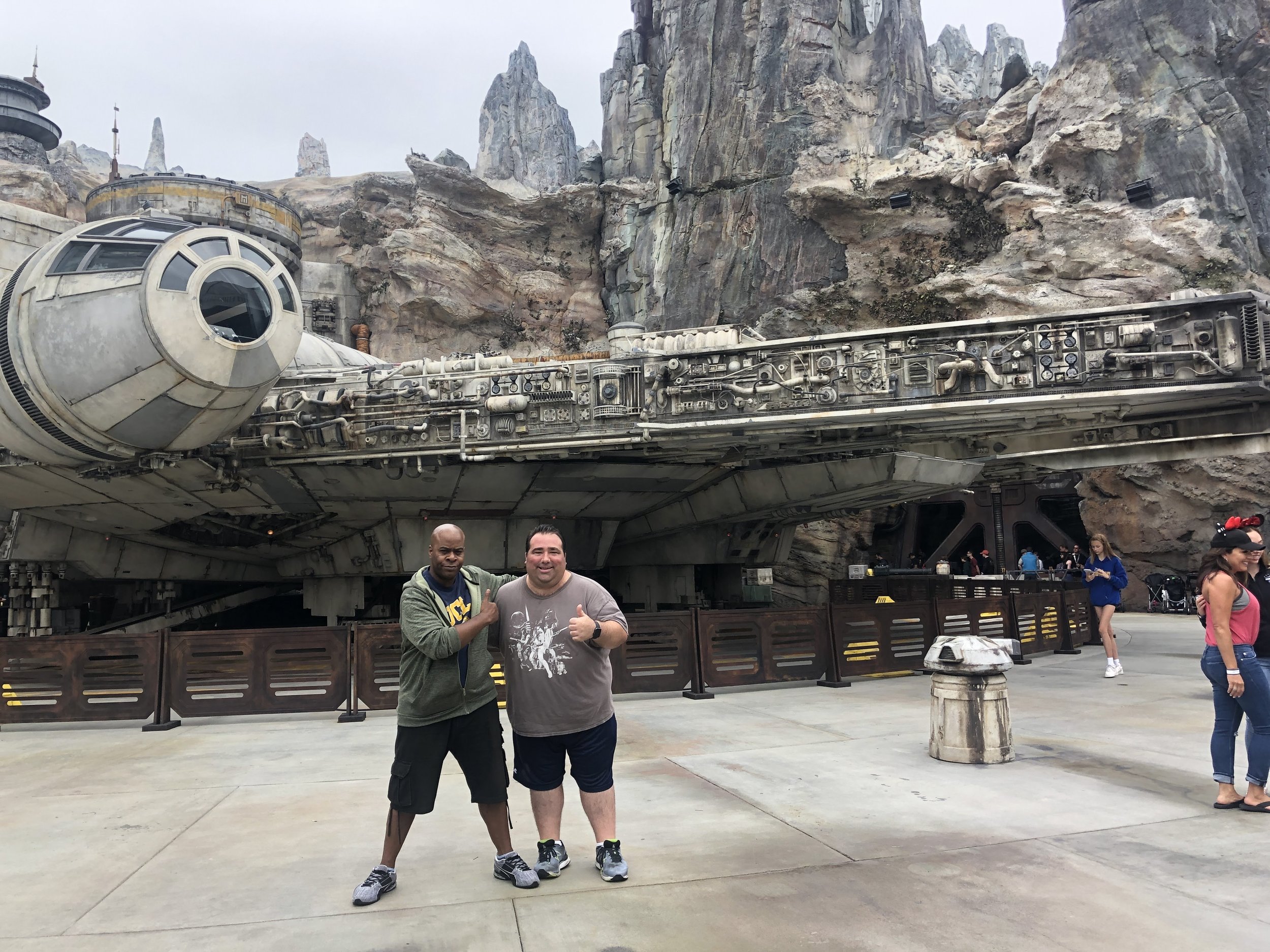 Author: Billy Madden
The highly anticipated Star Wars: Galaxy's Edge was set to open up in Disneyland on May 31st, 2019. Being a pretty big Star Wars fan, I was really excited to experience the new land within Disneyland Park once I'd heard about its existence.
GETTING RESERVATIONS
Naturally, I figured it would be impossible to glimpse it near the grand opening due to the massive fanbase connected to Star Wars. Thanks to my birthday, I got really lucky. My birthday is April 3rd, and Galaxy's Edge is opening up on May 31st. I had no clue how Disney was going to implement their reservation system. Still, luckily, thanks to a Grand Californian Hotel reservation gifted to me by my parents for my birthday, Disney was hooking up hotel guests with a Galaxy's Edge reservation before anyone else got a shot. I had a way in!
A few weeks later, Disney emailed hotel guests to confirm their Galaxy's Edge reservation. Initially, the date was wrong for everyone due to a bug, but they owned up to the error and fixed it with the correct date a few days later. I did spend 3 hours on hold trying to talk to someone who eventually confirmed that my reservation was correct. Whew! All that was left was to wait for the date to arrive: June 3rd, 2019.
One of the coolest side effects of the reservation system being in place is that Disneyland was empty, probably because those who could not score a Galaxy's Edge reservation decided to stay away from the park entirely. So, when I arrived a day early to enjoy the park with my buddy Justin, we were able to hit all the major rides with minimal wait times.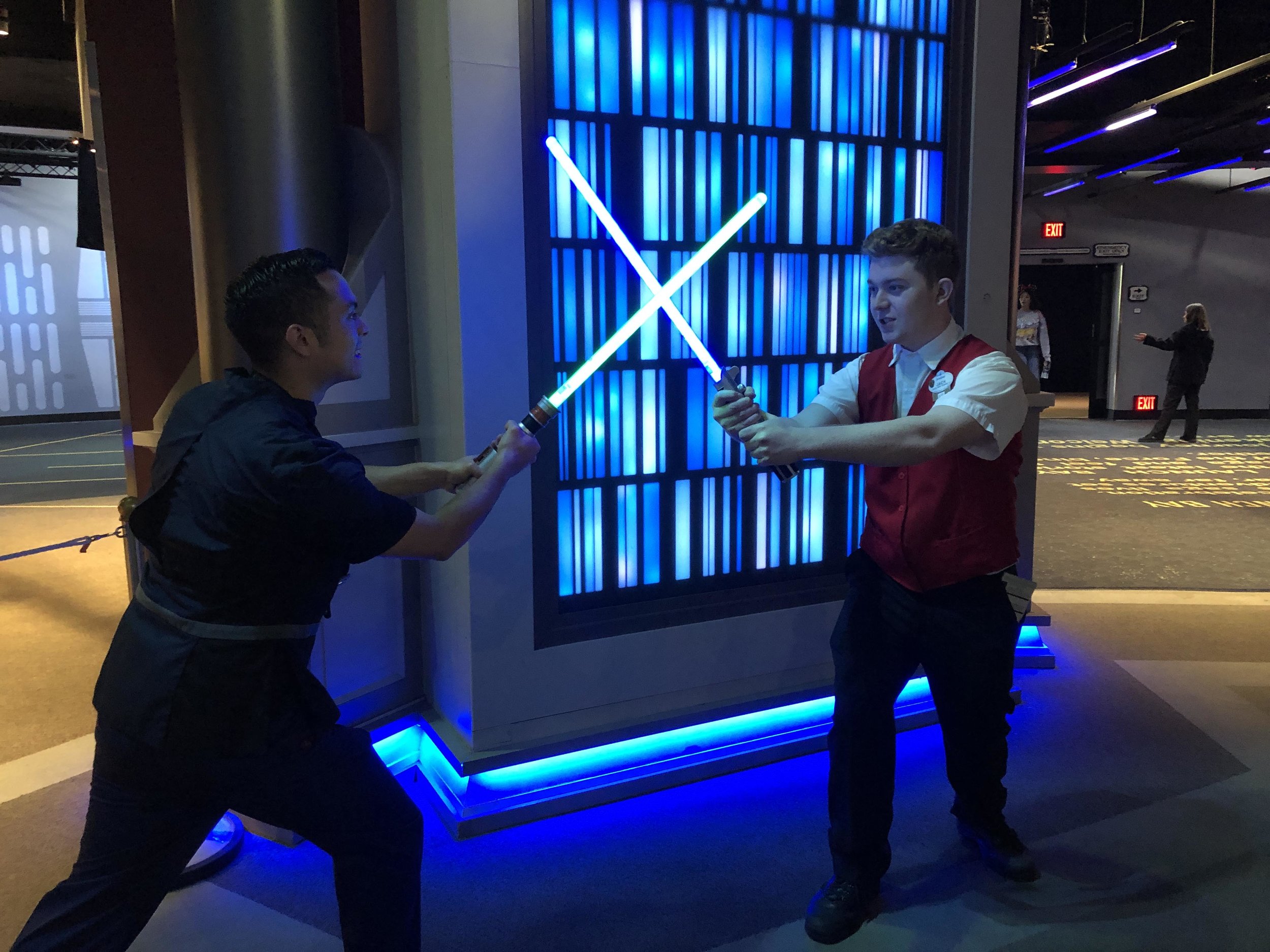 ANTICIPATION BUILDS
The day finally arrived, and we were like kids the night before Christmas, just excited! Our Galaxy's Edge reservation was from 11 to 3.  We went inside Disneyland around 9:15 AM to get our passes. Disney emails you with a QR code, and you have the QR code scanned at the "Star Wars Launch Bay" to obtain your wristband.
The Launch Bay is located near Autopia in Tomorrowland, and within the Launch Bay, there is a pretty good-sized Star Wars "museum." You will see everything from life-sized Stormtroopers models to a Death Star mini model. It gets you super hyped before you're allowed to enter Galaxy's Edge.
After you walk through the museum, taking as many pictures as you wish, a Disney cast member will tell you to go near the Hungry Bear restaurant to wait for the entrance to Galaxy's Edge. Justin and I walked over around 10:15 AM, and a cast member told us that we were not allowed to cross past her until 11, So we just set up camp at the Hungry Bear. At 10:40 AM, I noticed people passing her, so we decided to try our luck at entering a little early. We got past that first cast member, but she said we would be held further down the line for about 15 more minutes. We walked down the long pathway to join the crowd waiting to get in.  Though we were too far back to hear the cast member hyping up the crowd, the energy was undeniable. At one point, everyone started to cheer. We were let into Galaxy's Edge around 10:50. Everything ran so smoothly as people were calmly walking into Galaxy's Edge. I had expected to be trampled in an angry stampede.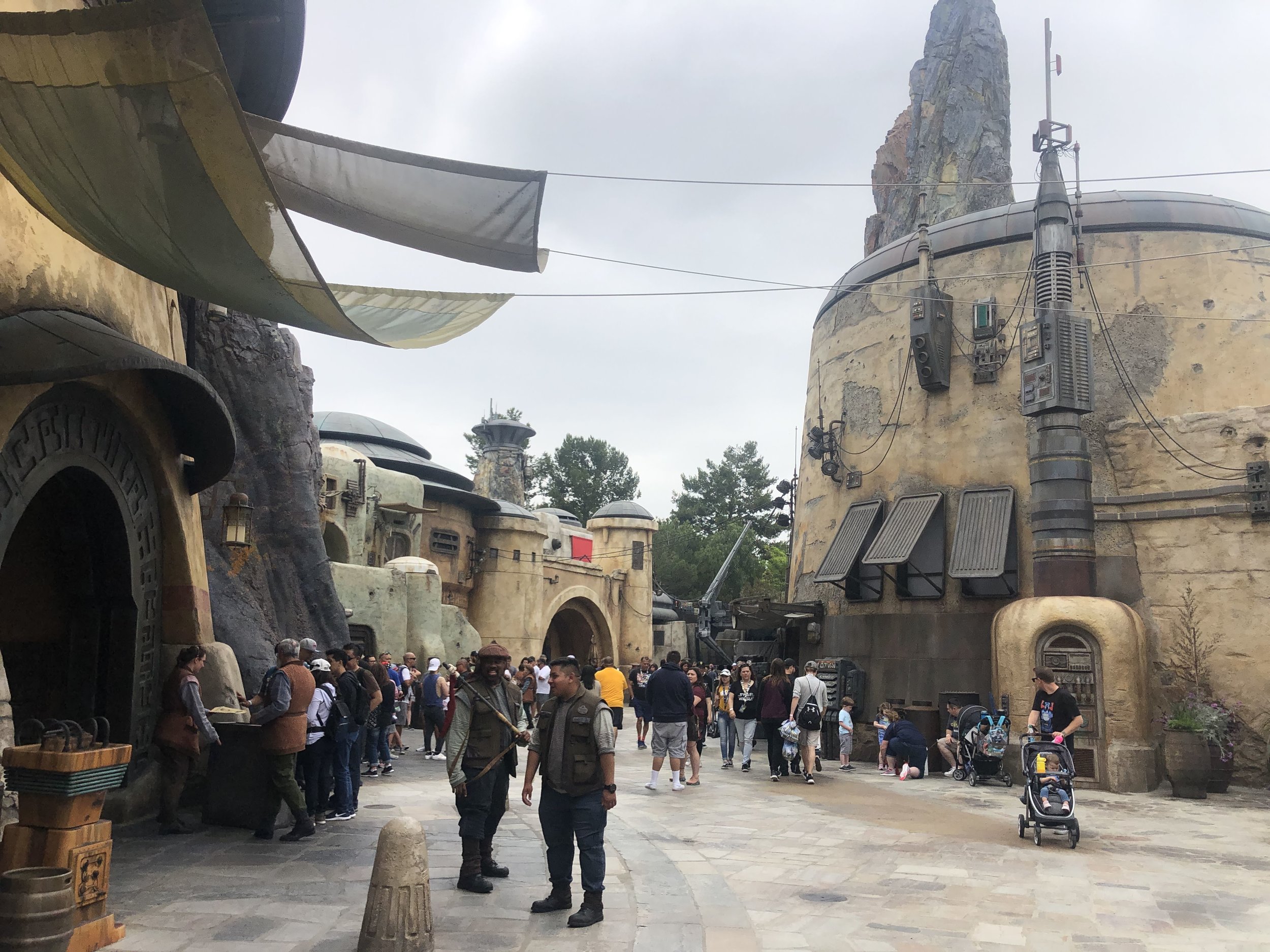 IN A GALAXY FAR FAR AWAY
Galaxy's Edge is set on the planet Batu, and Disney Parks really makes you feel as if you are there. After every interaction, every cast member will say, "Til The Spire!". Also, dollars do not exist on Batuu, only credits.  While looking through one of the shops, I asked where the $25,000 R2D2 was located so I could take a picture with it, and the cast member corrected me, saying, "25,000 credits!"
Nobody ever breaks character, and it does make you forget that you're at Disneyland. Stormtroopers ask you if you have seen any Rebel resistance activity anywhere and will engage with you as you take pictures with them. Every square inch of the place looks like the planet of Batuu.
Seeing a life-sized Millennium Falcon was breathtaking, as pictures can't do the thing justice, especially because it takes panorama to fit the entire ship into your camera frame.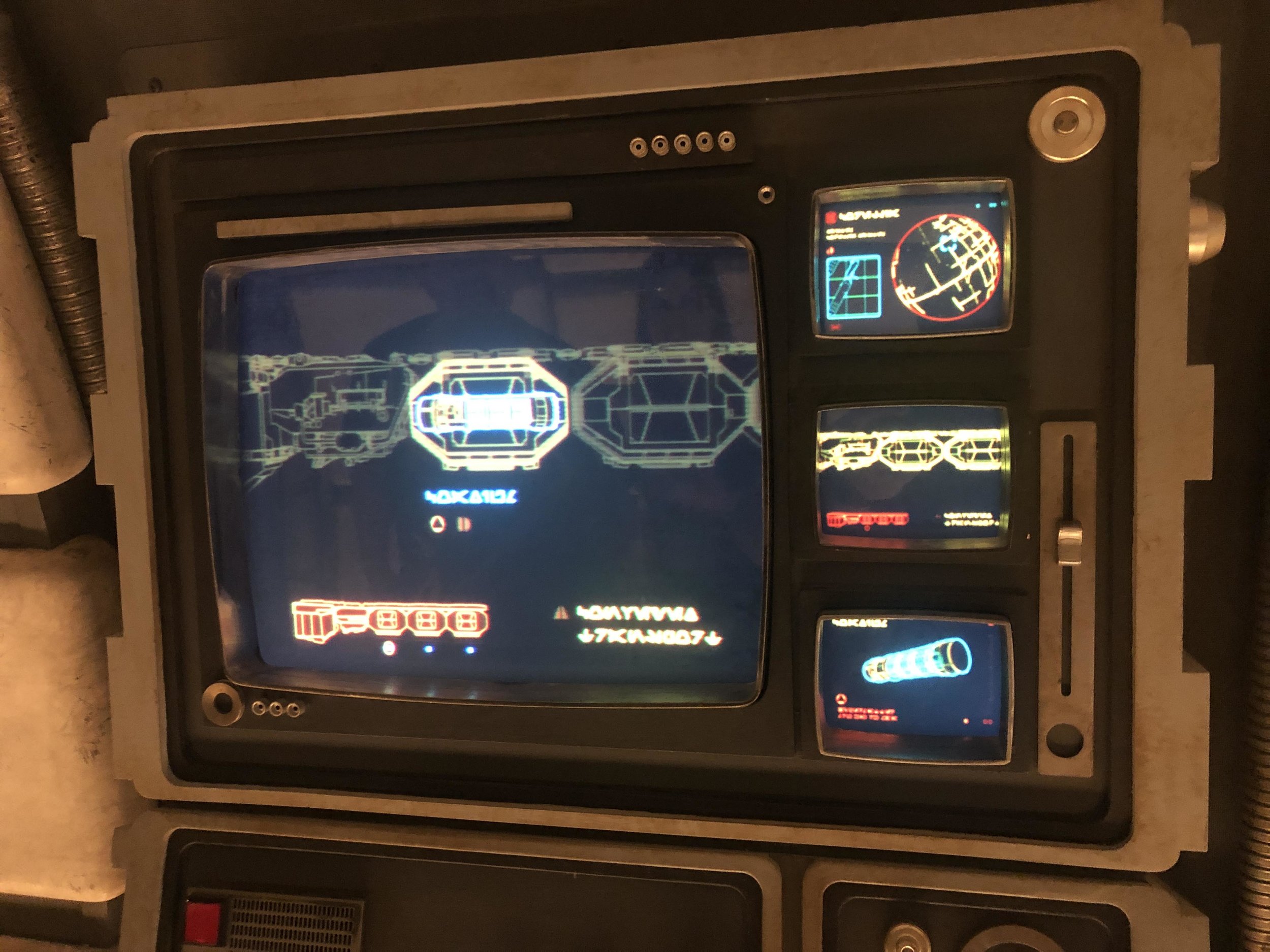 PROFESSIONAL SMUGGLERS
Of course, everyone wanted to ride the new "Smuggler's Run" ride as soon as possible, so Justin and I followed the crowd to the ride (instead of making a reservation for Oga's Cantina) and waited only 15 minutes for our first run-through. "Smuggler's Run" is an interactive flight simulator where you can be in the cockpit of the "hunk of junk" Millenium Falcon. Hondo Ohnaka is the smuggler needing your help intercepting supplies on a train. There are 6 people in one cockpit, and you all work as a crew to complete Hondo's mission.  There are two pilots, two gunners, and two engineers during the ride. Before boarding, a cast member assigns you a position with a boarding pass.
I was able to ride "Smuggler's Run" three times. The first time, I was assigned to the gunner position. While inside the Millenium Falcon, bogeys pop up, and it is the gunner's job to get rid of them. The ride is pretty chaotic, so you end up button-mashing, trying to blow up your targets when you can. During my 2nd and 3rd turns on the ride, I was able to pilot the Millenium Falcon! Since there are two pilots, one controls the left and right motion with the boost button while the other controls the up and down motion, kicking it into lightspeed. Though I could only be the left pilot, it was still a blast! Being a pilot is highly recommended over the gunner position. I never was an engineer, but their job is to put out the fires on board the ship. I am pretty sure it is like the gunner role, where you hit it if a light goes off.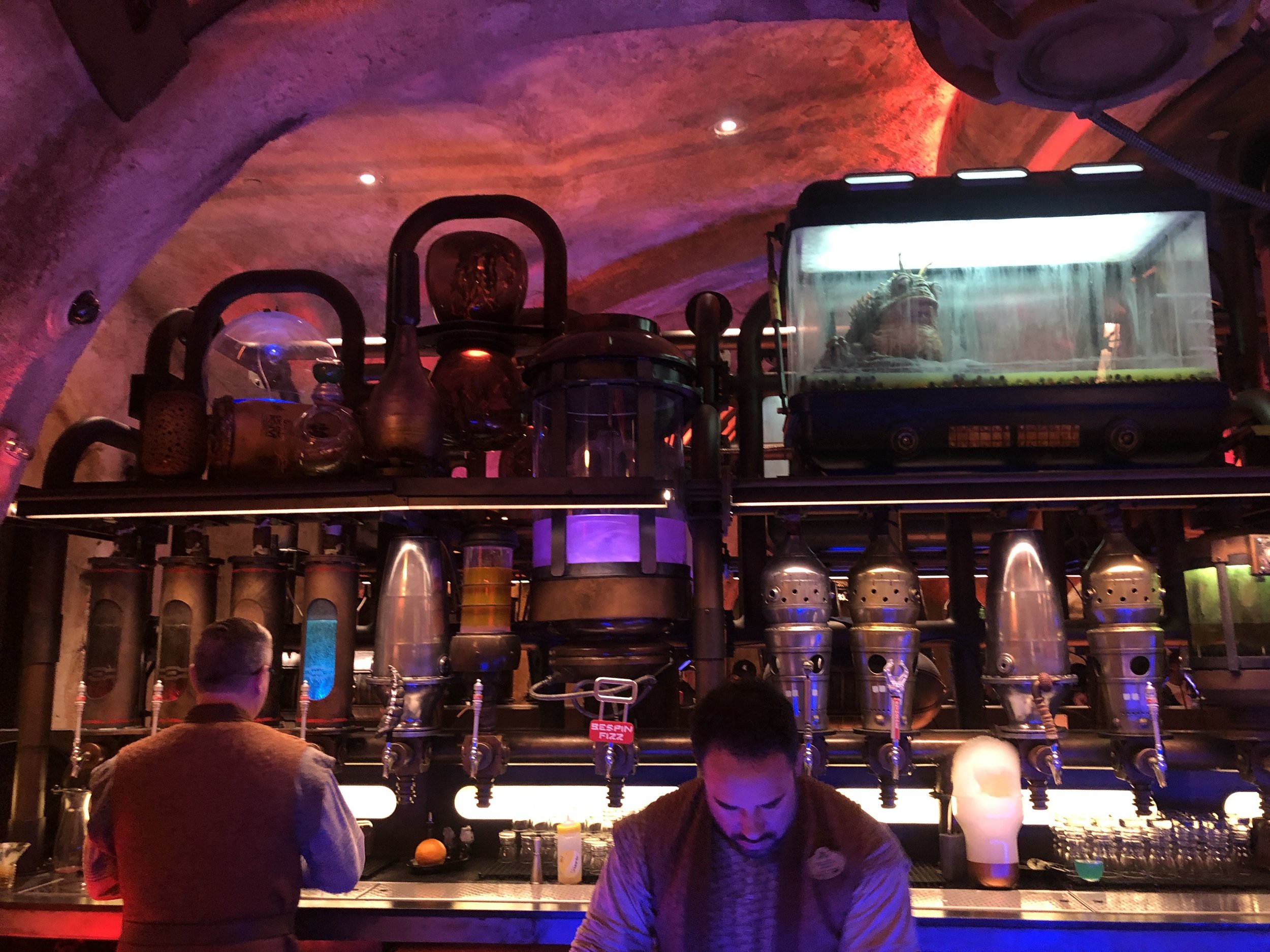 BOTTOMS UP AT OGA'S CANTINA
As we entered Galaxy's Edge, a cast member warned "travelers" (guests) to make a reservation for the cantina, as reservations will fill up. Justin and I initially ignored that advice and went for the ride instead, but after our first round of "Smuggler's Run," we went to the cantina to make the reservation, only to be told they were booked. We did get put on a waiting list. We luckily called into the cantina, but as a pro tip, make your cantina reservation first because as long as the Galaxy's Edge reservations are around, you will have plenty of time to ride "Smuggler's Run."
Oga's Cantina is pretty awesome! The DJ R-3X droid is above the cantina, pumping up the crowd and spinning Star Wars-style club music as people drink and enjoy the vibe. They have rules to keep the place running smoothly: a two-drink max and a time limit of 45 mins. Plenty of time to knock back a beer or two. Oga's Cantina is home to the most expensive "food" item at Galaxy's Edge. You can buy a $75 Rancor beer flight featuring Rancor teeth as the glasses. Justin and I had a more reasonably priced beer and were very content.
BLUE MILK DOES THE BODY GOOD
The sights and sounds of Batuu were all incredible, but the area where Batuu really shines is its food. I had the Ronto Wrap at Ronto's Roasters. It is described on the menu as roasted pork, grilled pork sausage, peppercorn sauce, and tangy slaw, all wrapped in a pita.  It was delicious!
I also had to try the mysterious "blue milk" at the Milk Stand. I heard it was pretty bad from others who'd tried it before, but I liked it! It is a blend of frozen rice milk and coconut milk. It tasted like a very sweet, coconut-heavy piña colada. Worth a try if you are at Galaxy's Edge, even just for the Instagram photo.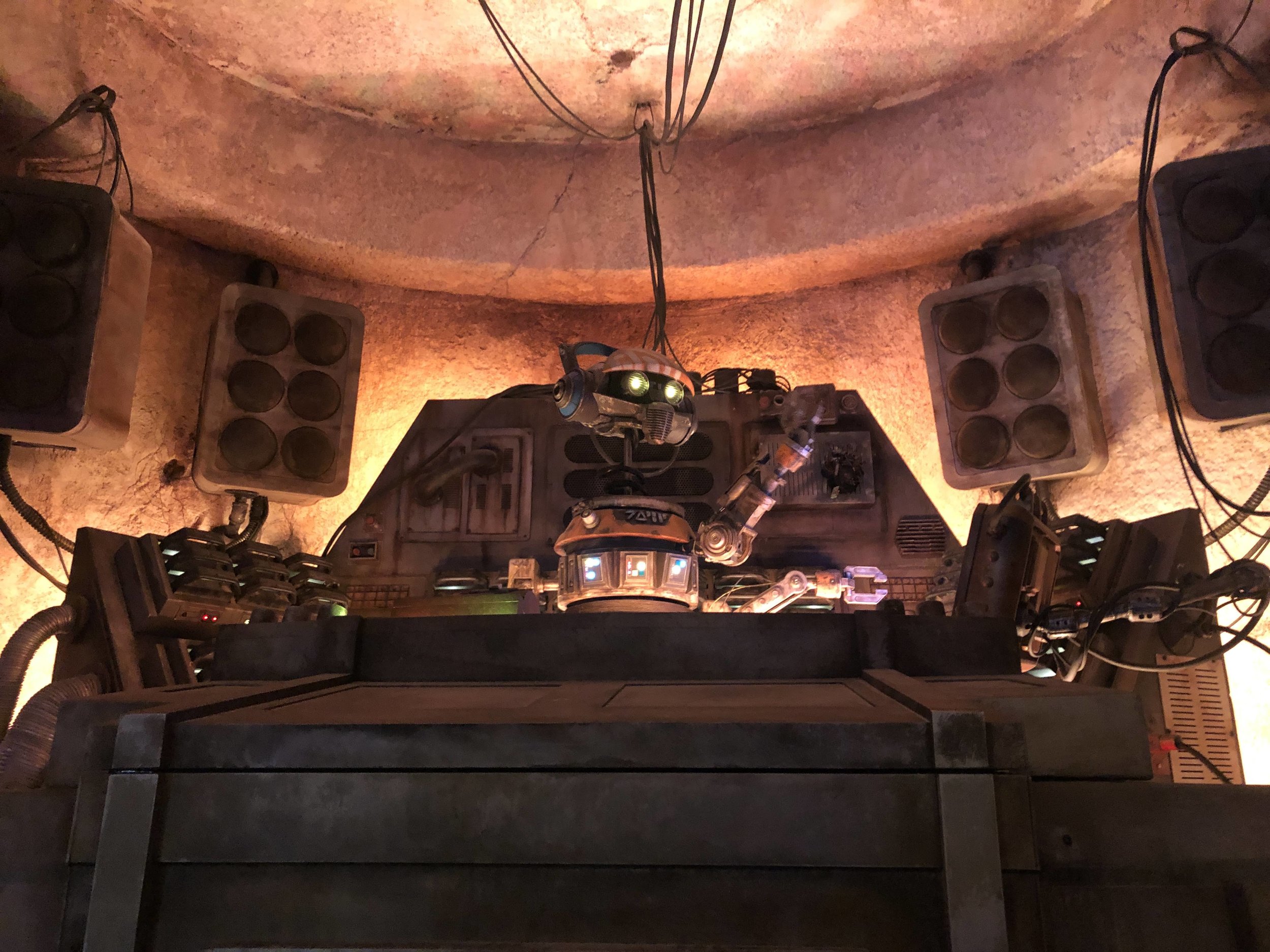 MAY THE FORCE BE WITH YOU
To wrap it all up, Galaxy's Edge is a very immersive experience. Walk around and explore every crevice during your time there because Disney's meticulous attention to detail is mind-blowing! There are many things to see and experience, whether building your droid or relaxing at Oga's Cantina. I know I left feeling one with The Force.
Check out more awesome photos from my day at Galaxy's Edge: