HAUNTX 2019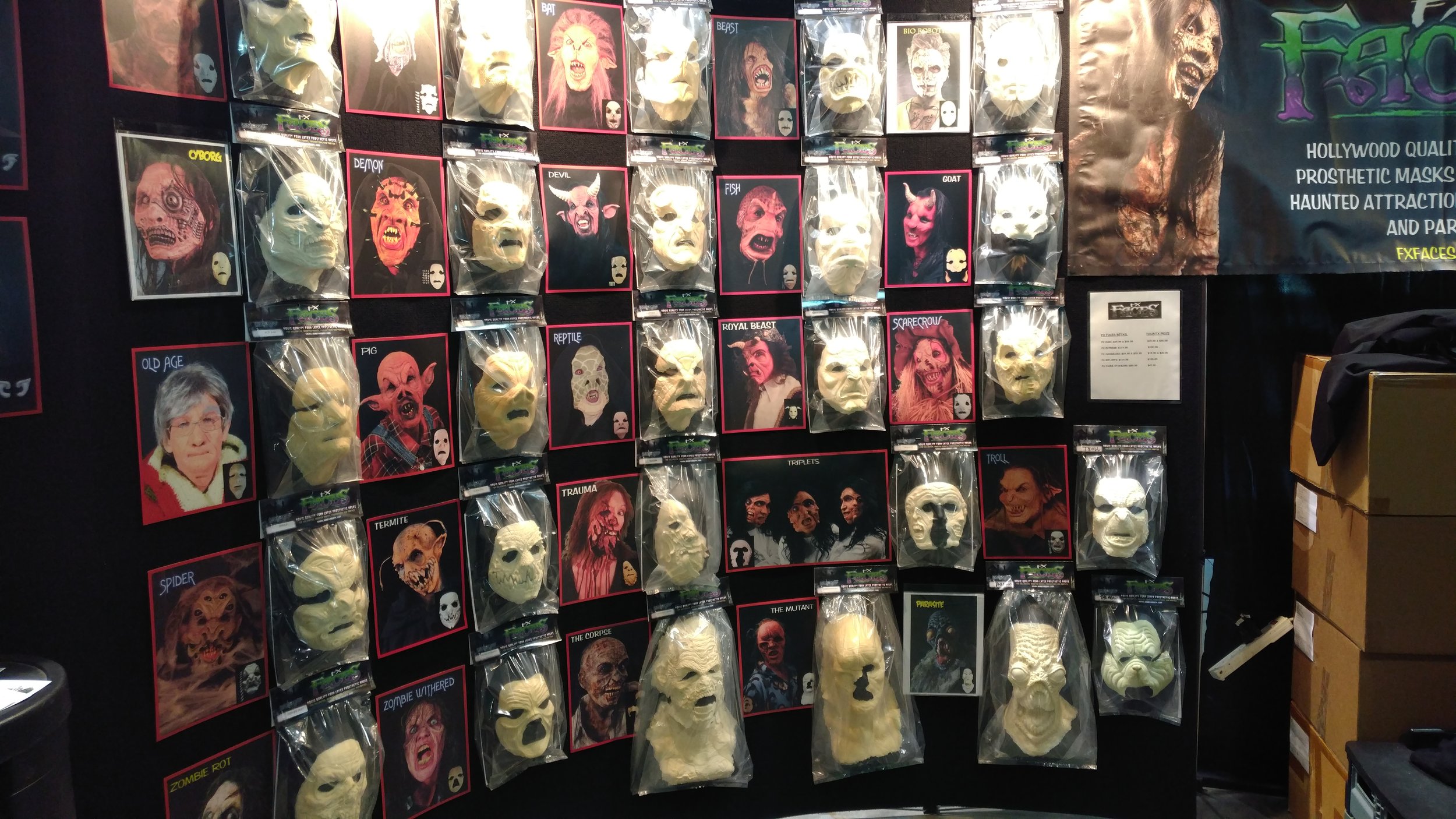 Author: Dylan Bloom-Fernandez
Building 9 sits at the far end of the Pomona Fairplex, far from this year's Knitting Convention, and it's a good thing it does. Its inconspicuous doors housed the ghoul-infested, fog-filled, and scare-loving DIY trade show, HauntX 2019, this past weekend, February 23 to 24, 2019.
Cosplaying as Jason Voorhees from the end scene of Friday the 13th, Part IV, I felt right at home (though momma Voorhees was nowhere to be found). I spent the day attending panels on how to DIY various cosplay essentials, learning more about haunters and their craft, and reveling in 80's slasher horror.
First up on my agenda for the day was a panel titled Glass Eyes for Your Haunt Props, taught by KiraMae Myers. This piqued my interest as a special effects fan and as someone who loves to create his costumes by hand. Here I learned that using flat marbles, some paint, glue, and a touch of finesse, one could recreate believable glass eyes for any animal on any budget. This panel was filled with great information and a demonstration.
Unfortunately, the show's execution left much to be desired. I could barely hear the demonstration due in part to the presenter's lack of a microphone and background noise bouncing off the walls. I could not see the demonstration and had to wait to see the creations up close, though they were worth the wait. Leaving the panel, it was time to find some one-of-a-kind art and merchandise to fuel my collector's side.
Luckily, there was no end to the things I appreciated at HauntX. Truly every booth had something one-of-a-kind that warranted appreciation. One such table that stood out to me was that of Zapped Alien Creations, which had some of the coolest laser-etched coasters and notebook covers I have ever seen. Zac Codner makes these creations by hand, using a laser on wood medium, and he was happy to discuss his work. My favorite was a notebook cover that featured the infamous House on the Hill from Alfred Hitchcock's Psycho, with the clouds in the background forming the famous silhouette of Hitchcock himself.
After prying myself away from the merch tables, I headed into my next panel, Knott's Ghost Town Monsters: Beyond the Fog. I was only mildly curious about the panel, but it was my favorite panel of the day. I was introduced to a group of longtime performers, known as haunters, from the mazes and scare zones that make up Knott's Scary Farm. The people behind the masks were humorous, dedicated to the craft, and haunters for life.
The open forum and stories of haunting were neat, but what interested me most was learning that monster roles were usually given to people who first worked in "the shadows." This caught me by surprise. The person in the maze that guides you further down, yes, that person, can one day be chosen to join the ranks as a specific monster. I was also shocked to learn that all the monsters work full-time day jobs and then rush to the amusement park to get into makeup and costume, transforming into a creature for the next 8 hours of the night. They scare us because they enjoy what they do, and they work tremendously hard to bring us evening after evening of memorable fun and frights.
After leaving that panel, I spent some time walking the floor. People recognized me as I went and asked to stop and take photos, but nothing prepared me for what was coming next. While walking along, someone dressed as Michael Myers spotted me nearly 30 yards away and stopped dead in his tracks. A long, bloodied, menacing kitchen knife at his side waited for me. I noticed and stopped as well, long machete clenched tightly. He didn't budge; this guy knew his character.
We had a silent showdown, which attracted some individuals who began to film us; I still had no idea what would happen. He tilted his head one way, and I tilted mine the contrary. After another skin-tingling minute, I began my killer's walk in his direction, awaiting whatever else this interaction would have in store. After coming within inches and being face to face, or rather mask to mask, our iconic 80's slashers had a friction-filled stare down for all to witness. Not knowing what else was in store, I spread my arms; Myers quickly mimicked me, and we embraced.
Now, being a character that never talks and meeting another that does the same can be interesting, to say the least. Michael Myers and I spent the next few hours stalking the floor of HauntX together, speaking only with hand gestures and body language. We became convention friends over this odd, hysterical experience. And the funniest part is that yet another Michael Myers bumped into us, and the entire thing happened all over again, with the three of us haunting the floor as a group, greeted by and recognized by our fellow haunters.
Though geared towards horror, the experiences at the convention provided a lot of interest for a wide variety of people. One such experience was that of gamers playing a VR game. The game used three-dimensional space to further add to the immersion, allowing players to encounter "real" boundaries within the game.
On my way out, I noticed people enjoying the performances of the Decayed Brigade Sliders doing tricks; I myself was stopped by the performance of sword swallower Ozzy Blood, who, after putting a sword down his throat, asked people to staple gun tips to his chest. This was an experience, to say the least, and something to end the day on.
Only two banners told me what hid inside the plain-as-day building when I exited the main doors. I looked up and realized the potential. Considering this tradeshow has moved around the last few years, having found a new home in Pomona, all it needs is some time to grow and for people to know who awaits them: passionate individuals with a love for their craft. This event welcomes all who want to be a part of or are already in the haunt community.