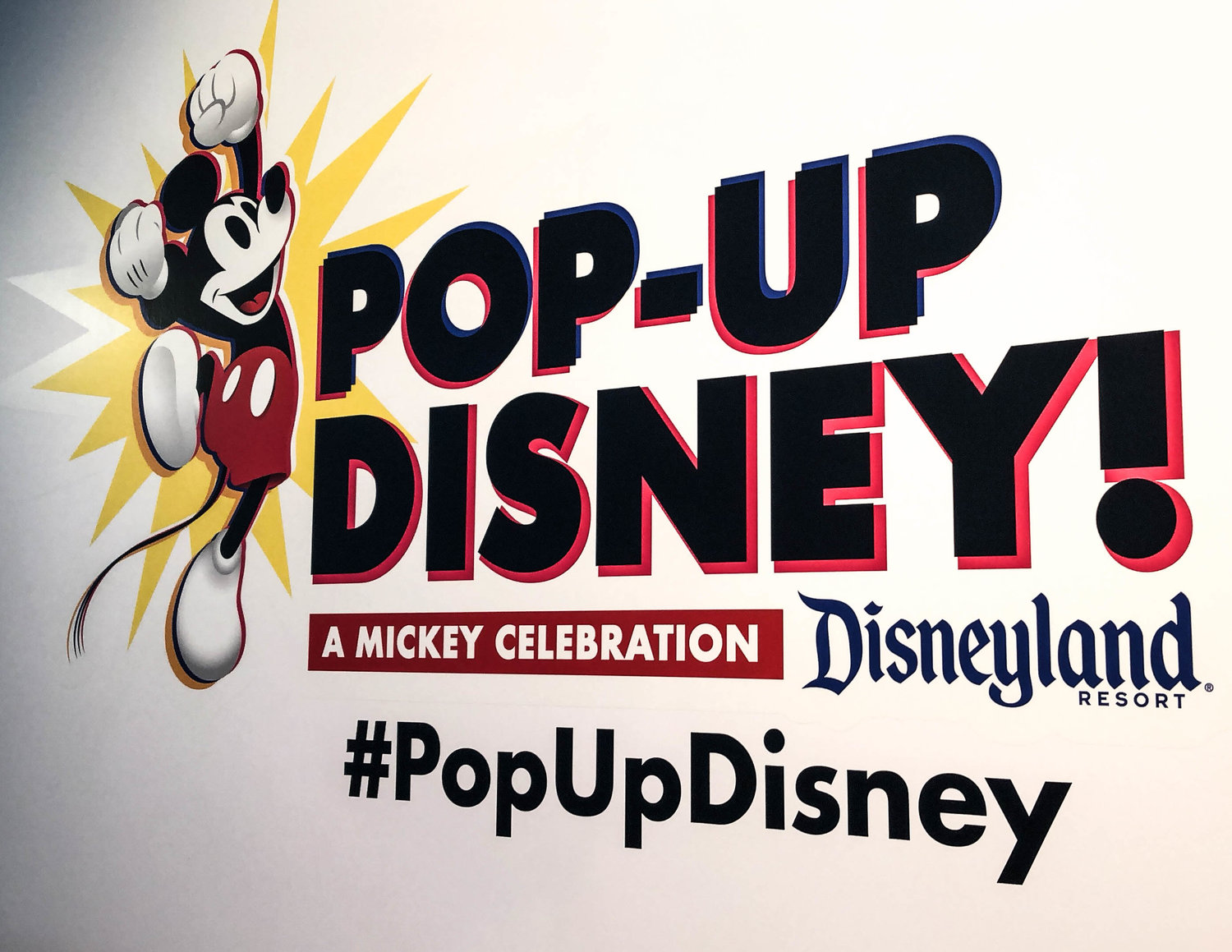 Author: Ariel Landrum
The new "Pop-up Disney! A Mickey Celebration" event, honoring Mickey's 90th birthday, runs from April 26th to July 31st, 2019, in Downtown Disney District. Set up in what used to be the ESPN Zone restaurant, the renovated event space features several themed rooms and a variety of photo opportunities.
This is not a character meet and greet but an "Instagram pop-up museum," similar to The Museum of Ice Cream. Each installation is designed to create whimsical backdrops for attendees to immersive themselves in.
Guests must purchase a ticket online for a time slot, separated in 10-minute increments, from 10 am to 9 pm daily. Once tickets are purchased, arriving 15 minutes before the scheduled time is highly advised. Late arrivals are not accepted, and tickets are non-refundable. There is much to see and experience in the waiting area, so arriving early will get you your money's worth.
I had been stalking the #PopUpDisney hashtag to get ideas for an outfit and poses before my scheduled day, which paid off since I knew where the best photo ops were in each room. A fan of dressing up and Disney, this event was the perfect opportunity to marry my two passions.
I decided to scoop up my attire at Unique Vintage in Burbank. I chose a 1950s white and black polka dot Frenchie top, a 1950s red button high waist swing skirt, and black and white striped Minnie ears, complete with her iconic red bow. Sticking with the Mickey theme, I purchased a Loungefly Mickey Shorts purse from Amazon. My shoes were black and red salsa heels I wear for a salsa class. I finished the 1950s look with pearl earrings and a necklace.
Walking into the space, the music, vibrant primary colors, and smiling cast members all brought about the feeling of Disney magic. In the foyer is a check-in desk, where guests are given different colored passes so cast members can call them out when it is time to enter.
Once checked in, we were taken to a welcome room with Mickey cartoons playing, Mickey Mouse-shaped couches, and even music stations with limited edition Mickey Mouse Bose headphones. Those stations played Mickey-themed playlists as guests awaited their time.
When it's time to enter the experience, a cast member calls the time slot and double-checks the color of your pass. They then show you a map on the wall, explaining the rules (no horseplay) and what to expect. They advise everyone in the party to use the restroom, as only one is at the exhibit's end. Group sizes were small, perfect because no one felt rushed, and there was time to take loads of pictures. There are hidden Minnies throughout each space (with little hints as the hunt gets tougher!), so it's worth it not to rush through.
The first room is themed around Mickey and Minnie's adorable relationship. Filled with hearts, photos, and a giant bow, this is a great room for couples' photo ops.
The second space is centered around black and white Mickey and Minnies, encapsulated with polka-dots and classic comic book lines. There is even an entire wall of plush Mickeys. This is a great area to take a picture in a vibrant colored outfit (because of the black and white backdrop) or in vintage attire, as the original Silly Symphony cartoons of the 1920s and 1930s inspired it.
Next is "To Mickey, With Love," an art gallery space filled with pieces created by his friends. This spacious room has statues, paintings of the famous mouse, and a giant mural of Mickey holding hands with his buds. For those who brought their pups to the pop-up, there is a great statue, Pluto, made with dog bones that's a perfect spot for dogs to pose.
Walking through a neon tunnel that plays Fantasia music leads to a room themed for that film. This is one of the more magical rooms, featuring Sorcerer Mickey, shooting out twinkling lights from his fingers. Anyone wanting a good shot in this room must wear white, so the black lights create a luminescent glow.
The next space is dedicated to countries Mickey has visited, an homage to the international popularity of our beloved mouse. The two main installations are based in China, filled with Asia-inspired architecture and bright reds, and Mexico, filled with wall-to-wall Mickey-shaped papel picado.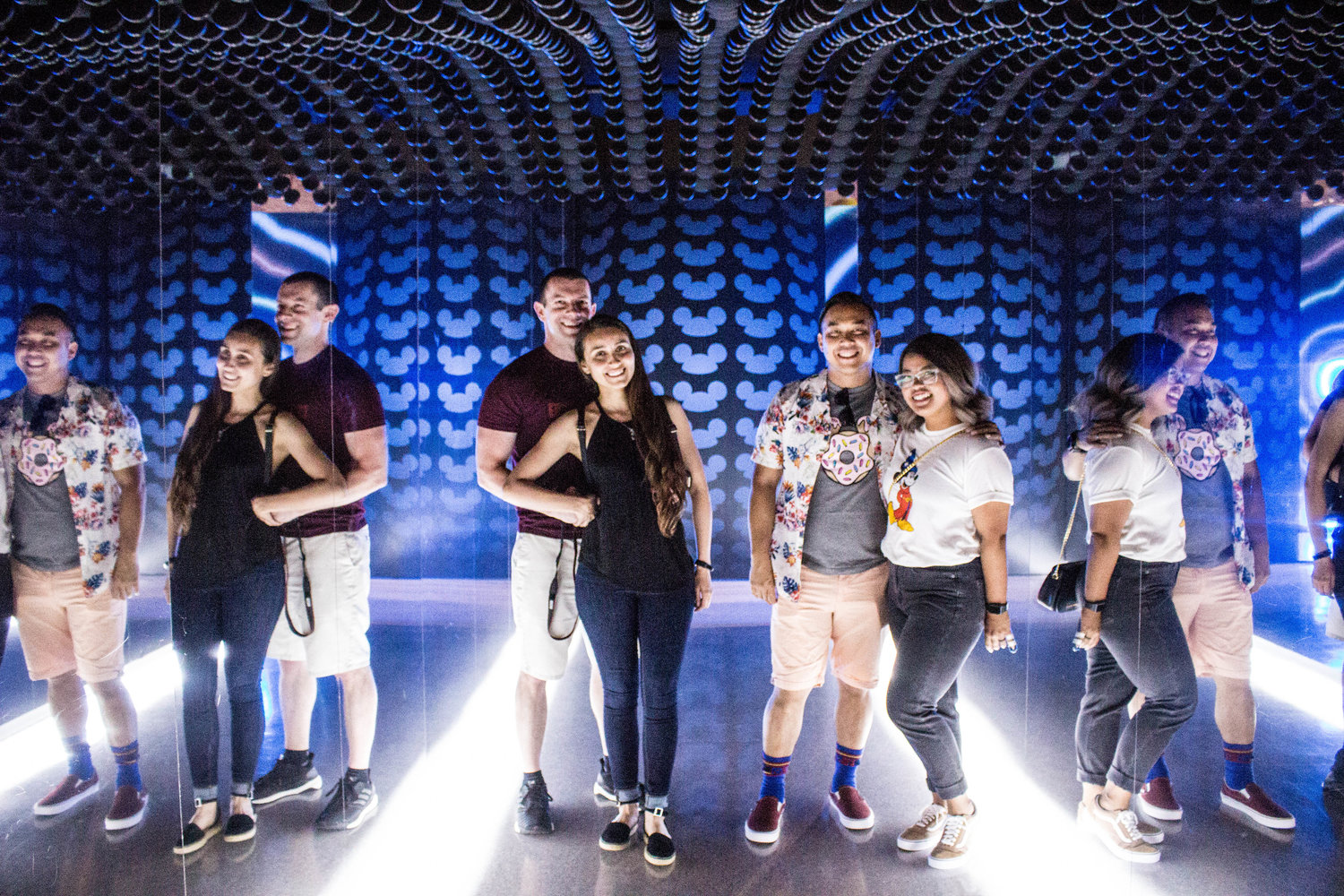 Walking past the country's theme is a walkway filled with old-school Mickey Mouse hats, mirrors, neon lights, and music from Tokyo Disney. These infinity mirrors are the most ambitious of all the rooms, perfect for groups or a trippy selfie. Inspired by Yayoi Kusama's "Infinity Rooms," guests can pose in the middle of the space to block out any of the images in front. The hidden Minnie in this space is also clever.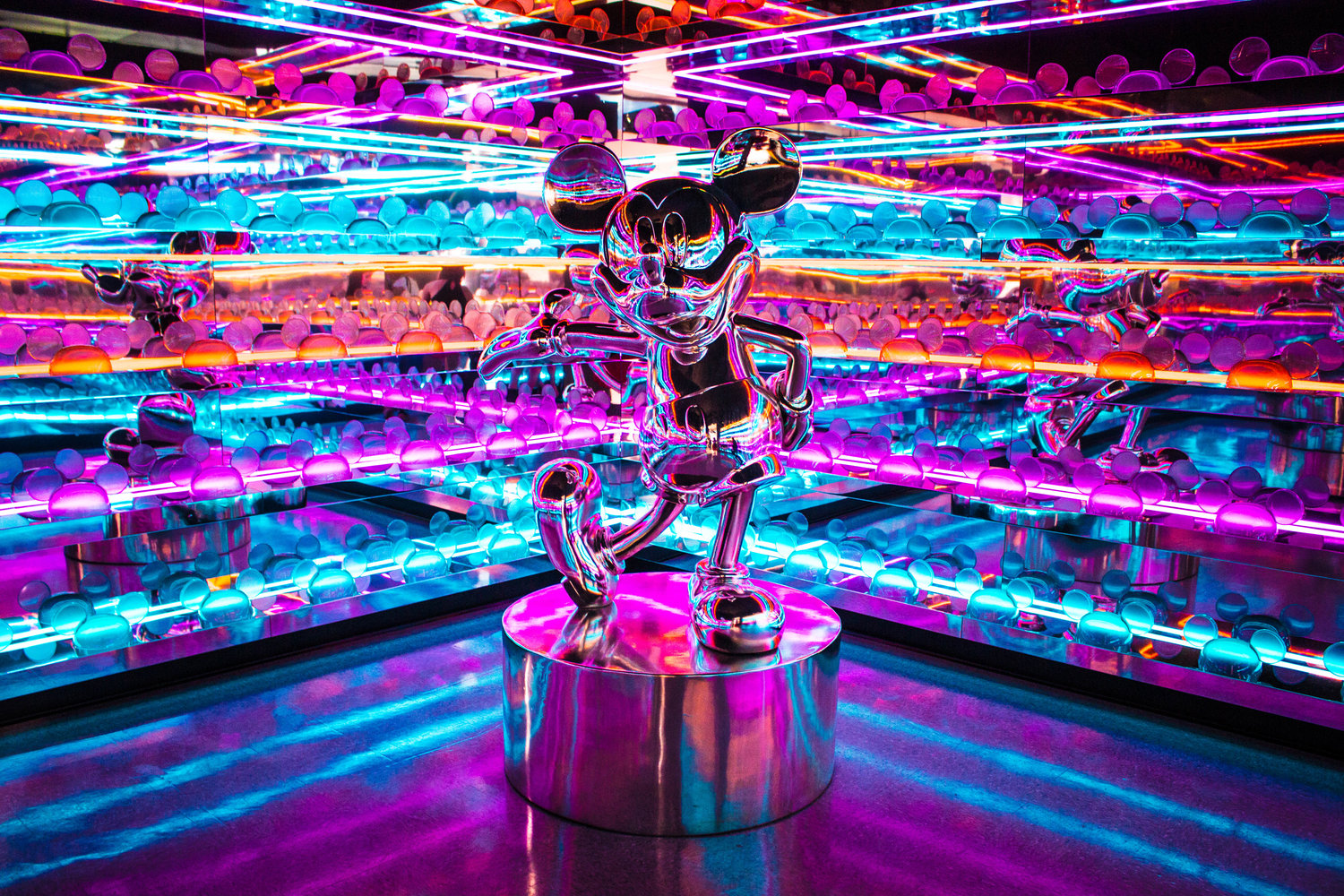 This walkway leads you to a silver chrome Mickey statue that reflects neon color-changing lights. Surrounding the room are clear Mickey hats that shine vibrant lights through. As the music changes beat, so do the colors. This room is perfect for any attire but is a favorite for those in festival wear and any Instagram influencer, as it has a very Daft Punk music video feel. Be sure to take many snaps of the same pose, as the changing lights make pictures look different every time!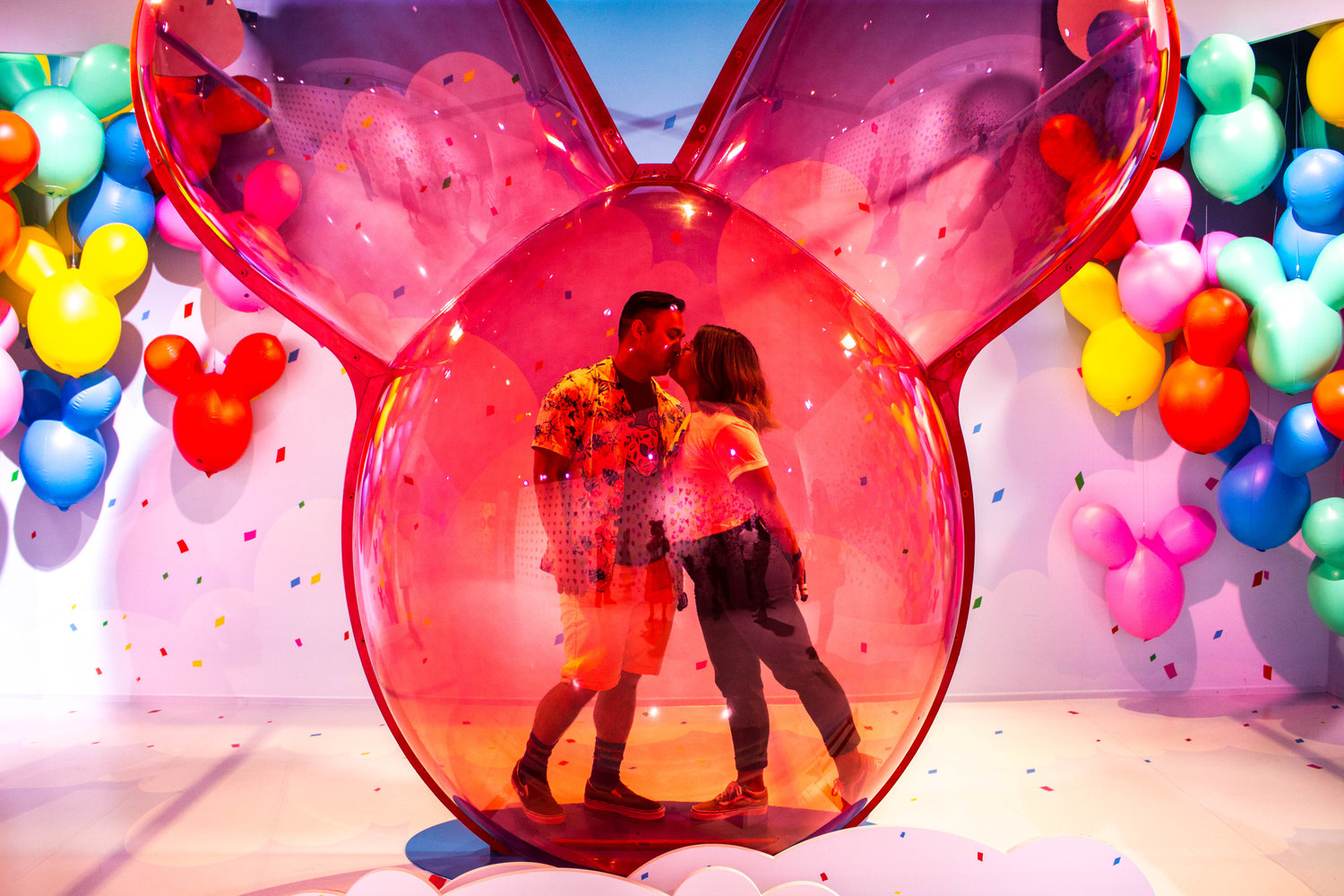 The final room in the experience is based on the Disneyland Resort theme for 2019: Get Your Ears On. The music in this room is a loop of Mickey's Mix Magic nighttime show. This space was my favorite as its main feature is a giant Mickey balloon that you can stand inside. One of my favorite photos at the park is holding the balloons, no matter what season. Being inside one was an experience I didn't even know I wanted, but I am so glad I had it! The space ends with a matte black Mickey statue contrasting in a zigzag rainbow room: a perfect group photo op and a natural way to end the experience.
The tickets include a chance to shop at the Pop-Up Disney Store and purchase some fun desserts at Marceline's Confectionery; attendees need to show their tickets from the event. I purchased limited edition pins, a black and white Mickey plush featured in the exhibit, and a tumbler at the retail store. As for desserts, my friends and I got all three to share: Mickey Marshmallows, A Silver Mickey Vanilla Cake Pop, and of course, Mickey Fudge on a Stick.
This event was well worth the wait and the money. Attendance is a must if you want to show your Disney spirit in the most Instagrammable way!
Check out more photos of this event!:
Note:
Tickets are $30 on weekdays and $38 on evenings (4 p.m. to close) and weekends. Guests 3 and under get in free.
Guests cannot check-in without at least one attendee with an ID matching the reservations. This is fortunate for anyone with last-minute drop-outs because you can still fill that ticket with another friend.
5-hour validation for Downtown Disney District is included with the ticket purchase.
It should also be noted that this event doesn't allow for Annual Passholder discounts (except for in the gift shop).