Monsterpalooza 2018
Author: Tania Escobar
For three days straight, Monsterpalooza celebrated ten years of frightful fun, from Friday, April 13 to Sunday, April 15, 2018. This convention focuses on horror, attracting people who delight in gore. Since it stomped its way to the Pasadena Convention Center in 2016, the coordinators have incorporated an "Afterlife Party," free for those with con wristbands, which takes place on Saturday.
Though there is the expected live entertainment, unlike other convention after parties, this one includes an award ceremony: The Fright-Time Achievement Award, honoring the movie industry's special effects makeup artist. Every year it is presented to an honoree by a surprise celebrity guest.
Prior winners include three-time Oscar winners Greg Cannom and Ve Neill. Cannon is best known for his work in White Chicks, Van Helsing, and 1992 Dracula starring Gary Oldman, who was also the special guest to present the award.
Neill is best known for her work in Edward Scissorhands, Pirates of the Caribbean, and Beetlejuice. Presenter Pee-wee Herman (Paul Rubens) gave the glass laurel to Neill as the two collaborated on Pee-wee's Playhouse.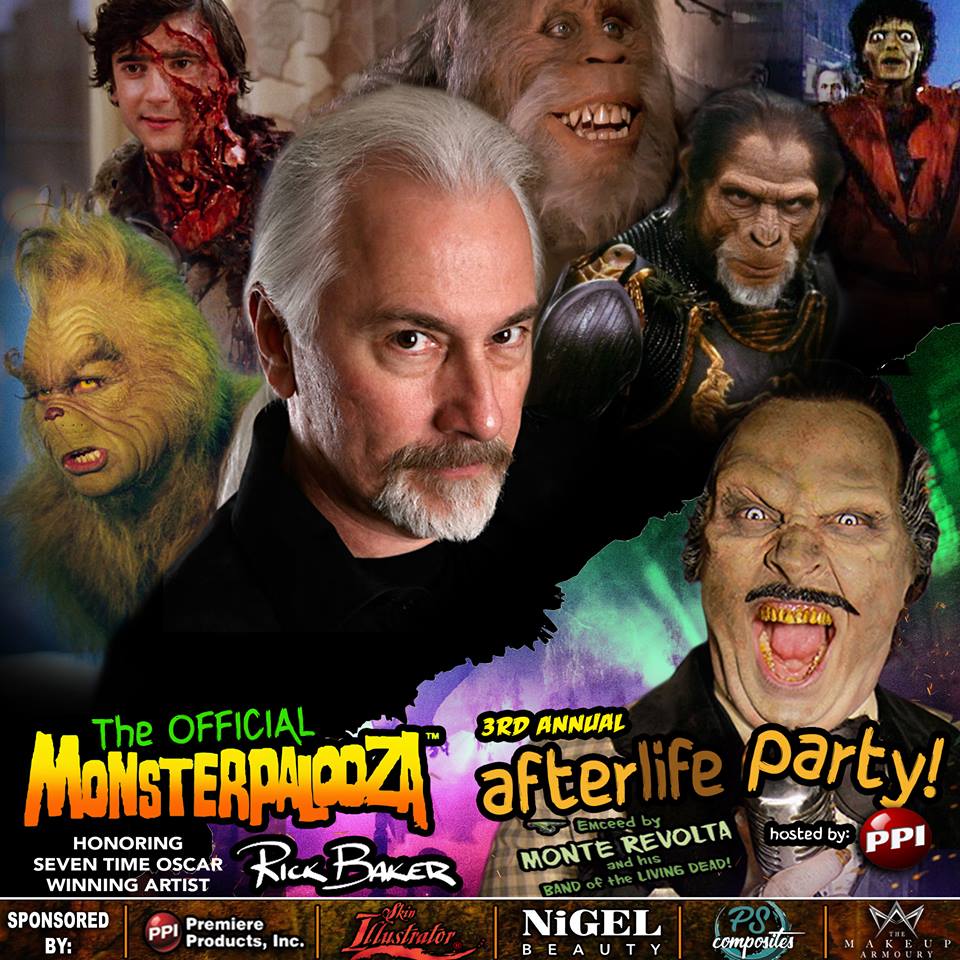 The affair is hosted by Premiere Products Inc. (PPI) every year, and the winner of this year's prestigious award was legendary makeup artist Rick Baker. He has won seven Oscars in various films, including The Wolfman to How the Grinch Stole Christmas to Men in Black. In his music video, Thriller, he even transformed Michael Jackson from man to beast.
He seems to be the perfect first pick for The Fright-Time Achievement Award. As Monsterpalooza celebrated a decade of existence, it's more appropriate to mark this achievement by honoring a true star. Not only was Baker recognized at the festivities, but PPI also had their first makeup tribute in the exhibit hall at their booth to showcase Baker's work.
The entertainment for the night was master of ceremonies Monte Revolta and His Band of the Living Dead. The band created a montage of Baker's works, playing perfectly with their music. Attendees dressed in horror cosplay laughed and danced during the performance.
As the music died down and the footage ended, special guest celebrity Slash, guitarist from Guns 'n Roses, came out to present the trophy. He is a huge fan of Baker's work in The Incredible Melting Man and the 1976 King Kong. Slash also accompanied writer and director John Landis and actor David Naughton, who worked with the luminary on the film American Werewolf in London.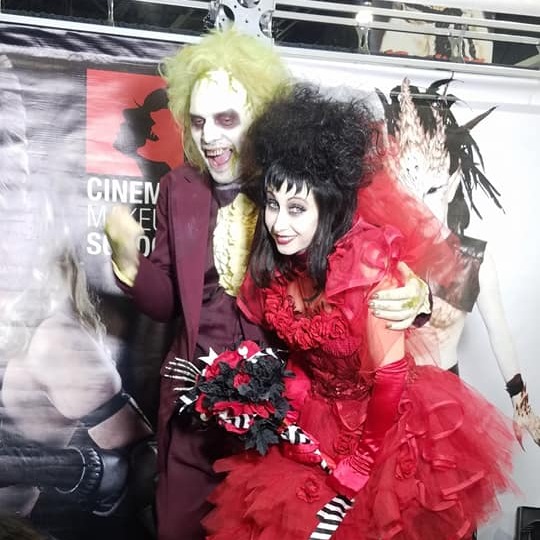 After receiving praise, Baker joked, "I feel at a wake or something. I've seen my life pass before my eyes." While giving his speech, Baker held back tears as he claimed, "I've gotten a lot of awards and things, but this one, believe it or not, means so much to me because you guys are my people."
I tried not to cry, as Baker is an inspiration and hero. I'm also an employee at Universal Studios, where his name never goes unspoken and is synonymous with many of Universal's legendary creatures.
As the party drew close, I was sad to see it all go, knowing that this year was one for the books. The Afterlife Party does an amazing job celebrating what Monte claims is "a room full of sick twisted individuals."
For tickets and details on Monsterpalooza: http://www.monsterpalooza.com/spring/