San Diego Comic Con 2017
Some excerpts provided by SDCC 2017 restaurant guide.
Author: Ariel Landrum
Combining great meals with geek flair is essential to a memorable convention journey. There may be over 200 eateries in the Gaslamp, various overpriced food carts inside the hall, and the wise often pack sandwiches and snacks, yet this can damper the festivities. Attendees often miss out on the fusion of food and nerdom, especially at the mothership of conventions, San Diego Comic-Con. Therefore, People of Con compiled a list of the Top 10 Food Experiences badge holders won't want to miss at SDCC 2017.
BELOW ARE PEOPLE OF CON'S TOP 10 FOOD EXPERIENCES FOR SDCC 2017
1.  Zenescope Entertainment Holding Gelato Eating Contest
Zenescope Entertainment is partnering with San Diego's Gelato Paradiso to offer three specialty gelato flavors based on Zenescope's comic book titles. Gelato Paradiso will also be giving away a Limited Edition Comic Con souvenir cup with every purchase of a Zenescope flavor while supplies last. But the real news is that Zenescope is hosting a "gelato eating contest" at Gelato Paradiso on Saturday, July 22, at 3 PM. The winner, presumably eating the most gelato, will receive a four-day badge to San Diego Comic-Con 2018 and a Best of Zenescope Pack.
WHERE: Gelato Paradiso, 789 W Harbor Dr.
WHEN: Thu.–Sat., 7/20–7/22: 11:00 AM–8:00 PM; Sun., 7/23: 11:00 AM–3:00 PM; Contest Sat., 7/22: 3:00 PM
2. Mr. Robot
Mr. Robot will be represented at San Diego Comic-Con this year with an off-site experience, allowing attendees to receive their own E Corp card, loaded with E Coin cryptocurrency. The E Corp card, which can also be opened online at e-coin.com, can be used throughout San Diego's Gaslamp Quarter for food, drinks, and other surprises at participating retailers (TBA). Best of all? You can also visit the show's infamous Red Wheelbarrow BBQ next door to the Bank of E and present your E Corp card for a BBQ meal.
WHERE: E Corp's Bank of E, 327 4th Ave., between J Street and Island Avenue
WHEN: Thu.–Sat., 7/20–7/22: 11:00 AM–7:00 PM
3. Hard Rock Cafe
Each year for Comic-Con, the San Diego Hard Rock Cafe releases a limited edition pin set commemorating the event. This year there will be two pins featuring Superhero Girls — one for the Cafe and one for the Hard Rock Hotel. The pins are $14 each and will go on sale July 17th at their respective location. Additionally, they donate comic books to the U.S. Marine Corps. To participate, you can drop off comic books at the Cafe anytime from Monday, July 17 – Sunday, July 23. In addition to giving a Marine some awesome reading material, you will also receive a True Hero VIP lanyard featuring the San Diego cityscape — perfect for attaching those pins to!
WHERE: Hard Rock Cafe, 801 Fourth Ave
WHEN: Mon.–Sun., 7/17–7/23: 11:00 AM–11:00 PM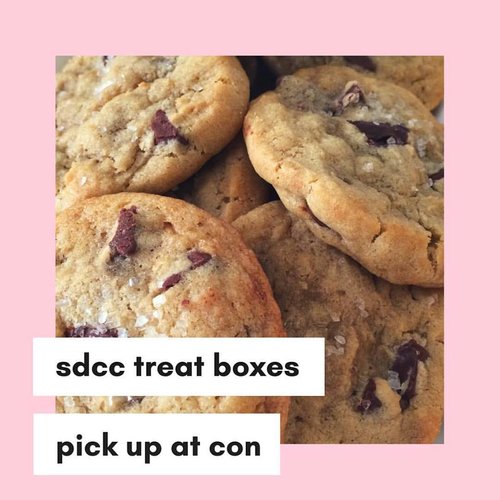 4. Kneady Bakery
For San Diego Comic-Con 2017, Kneady Bakery offers Care Packages that will include a few of their most popular items. Gourmet menu items may include Robert Brownie Jrs, Rice Krispin Glovers, Lord VoldeS'Mores, Jammie Doctors, Salted CaraMal Reynolds Bars, and many more! They also include gluten-free boxes, but even better, $1 is donated to Operation Smile for every purchase!
WHERE: Purchase online (last day to purchase is Fri. 07/14) with pick-up location e-mailed to you
WHEN: Fri.–Sun., 7/21-7/23: 9:00 AM–11:00 AM
5. The Cat Cafe
Want to get away from the long lines and crowds of Comic-Con to enjoy award-winning, locally roasted coffee in the company of friendly felines? Come visit The Cat Cafe and enjoy our Comic-Con special! For $15, you'll get a drink or food item and a chance to spend 30 minutes with friendly cats from The Rescue House. Because we know you'll be tired of crowds, we limit the number of people admitted into the cat playpen for each half-hour session to 15. Spots will go quickly. Make sure you book early to get yours!
WHERE: The Cat Cafe, 472 3rd Ave.
WHEN: Reserve date and time online, Thur.–Sun., 7/20-7/23: 8:00 AM–3:30 PM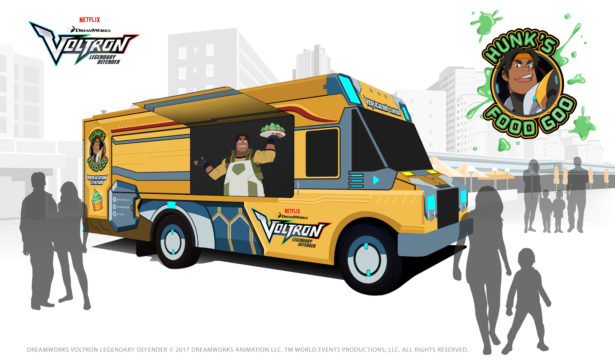 6. Hunk Food Truck
DreamWorks animated series Voltron: Legendary Defender will be at San Diego Comic-Con in a big way this year. Aside from panels, swag, and meeting the stores, the show is represented in Petco Park's Interactive Zone with the official Hunk Food Truck, which will serve Green Food Goo! The food truck will be open Thursday-Saturday from 11 AM-6 PM, and from 11 AM-5 PM on Sunday.
WHERE: Petco Park Interactive Zone, 100 Park Blvd.
WHEN: Thur.–Sat., 7/20–7/22: 11:00 AM–6:00 PM, Sun., 7/23: 11:00 AM–5:00 PM
7. Midnight Texas at Tin Fish Gaslamp
Tin Fish Gaslamp restaurant and surrounding area will be themed after NBC's Midnight, Texas. The restaurant will be transformed into "Home Cooking," the restaurant from the series. Fans can look forward to live tarot card readings as they wait for their seat. The outside of the restaurant will feature some of the show's iconic locations: the Pawn Shop, Fiji's house, the Tattoo Parlor, Olivia's Armory, and a pet cemetery. Patrons can even find themselves inside the lead character, Manfred's house, where they can partake in a 4D experience. They will also be on the lookout for hidden Snapcodes and filters.
WHERE: Tin Fish Gaslamp, 170 Sixth Ave.
WHEN: Thu.–Sat., 7/20–7/22: 11:00 AM–8:00 PM; Sun., 7/23: 11:00 AM–5:00 PM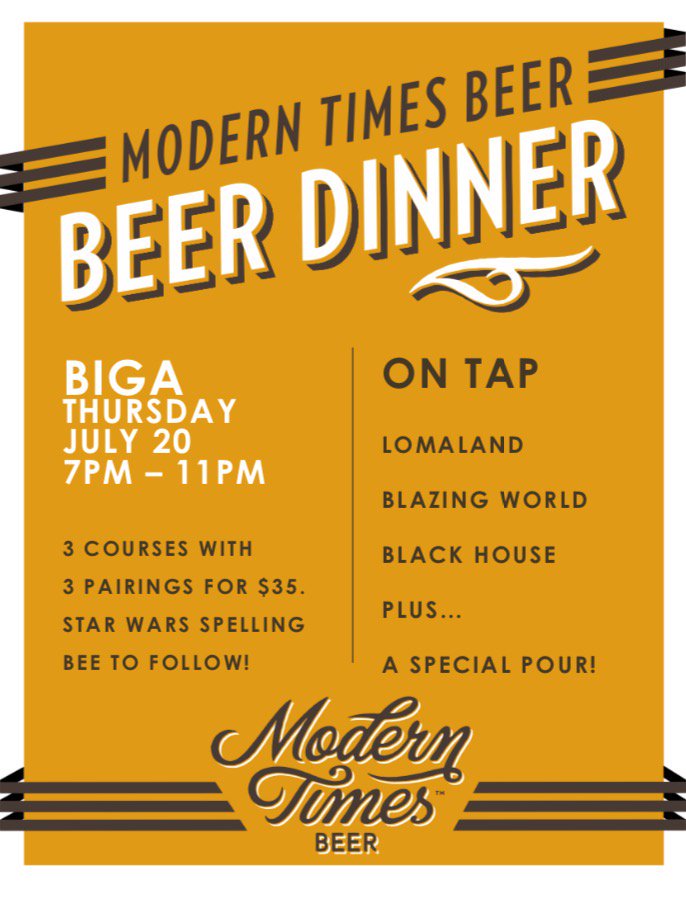 8. Modern Times Beer Dinner at BIGA
This Comic Con, the devastatingly delicious beers of Modern Times Beer Company, meets the thoroughly tantalizing cuisine of BIGA for a tremendously thoughtful 3-course meal showcasing the stunning bounty of our county. This would not be stupendously special without something that ties us to Comic Con. Shall we present the unlikely intersection of Geekdom, Beer & Intellect with our Inaugural Star Wars Spelling Bee?  Yes! Unsurprisingly, we don't stop there! We will also have a keg of Modern Times Monthly Release, more amazing than the dual suns of Tatooine. Astoundingly, tickets are only $35 when you buy them online and $45 at the door.
WHERE: BIGA, 6th Avenue and Broadway
WHEN: Thur., 7/20: 7:00 PM–9:00 PM
9. IGN and Sony Present The Dixie Pig
Calling all San Diego Comic-Con and The Dark Tower Super Fans! You're invited to join IGN, Sony Pictures, and MRC Studios in celebrating the highly anticipated release of The Dark Tower in theaters on August 4th. Join us at The Tipsy Crow for SDCC's largest fan party, featuring a full venue transformation into the 'Dixie Pig (770 Fifth Ave., San Diego, CA) on Thursday, July 20th at 8 pm. Featuring 'baby' ribs, music, drinks, and live entertainment along with the IGN team, this is the ultimate party you can't miss! 21+ event. Valid photo I.D. required. Please, no backpacks or hats. SDCC badges are not required.
WHERE: The Tipsy Crow, 770 Fifth Ave.
WHEN: Thu. 07/20: 8:00 PM–12:00 AM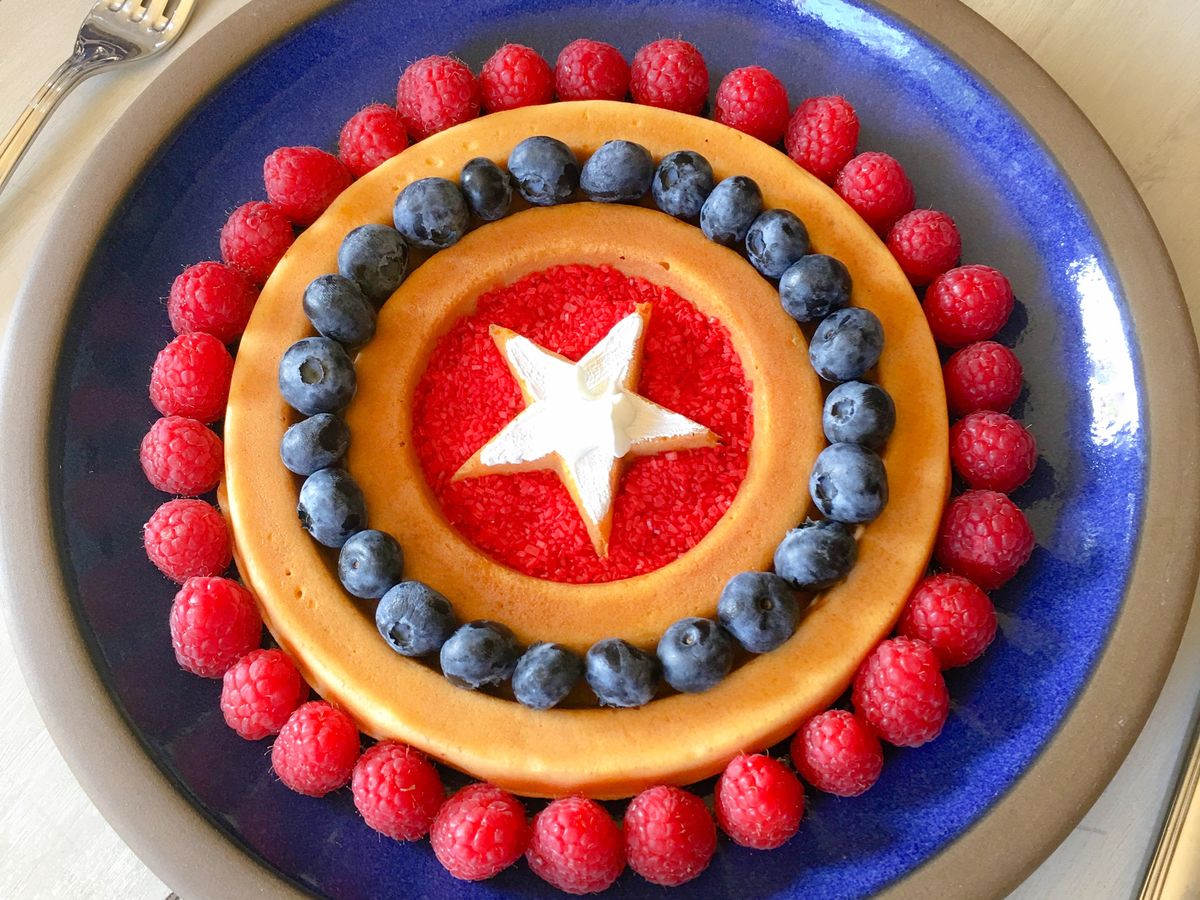 10. Cafe 222
Taking notes from Captain America, the Marina District mainstay Cafe 222 is upgrading its well-loved waffles to superhero status. The restaurant's featured dish during July is shaped like Captain America's shield and is topped with berries and whipped cream.
WHERE: Cafe 222, 222 Island Ave
WHEN: All of July Mon.–Fri., 7:00 AM–1:45 PM
BONUS: FOOD DEALS
1. Delivery Service Coupon
Getting food at the con can be a hassle, especially for anyone in line at Hall H; you can't miss out on those wristbands. This is the epitome of not cool. Fortunately, in this modern age, in a tech-savvy town, the Unofficial San Diego Comic-Con blog partnered with UberEATS to give followers $10 off on their first order with the code EATSUBLOG17. Simply choose a nearby restaurant from their list, order, and then have the food delivered curbside. This will be, by far, the easiest meal any badge holder gets.
2. Dining Coupons
In the end, we are aware that most convention attendees have spent their money on their tickets and exclusives that often they don't have a lot of money for eating excursions. The San Diego Convention Center is well aware of this debacle and puts out coupons yearly. Also, restaurants in town often partner with the convention to provide small discounts if guests show their convention badge.
Download the San Diego Convention Center Dining Coupons Online