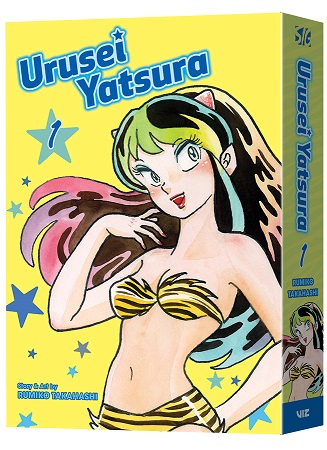 Author: Newsroom
San Francisco, CA, January 15, 2019 – VIZ Media, LLC (VIZ Media), a premier company in the fields of publishing, animation distribution, and global entertainment licensing, announces the return of the classic manga comedy URUSEI YATSURA in all-new deluxe editions on February 19th.
Set for publication under the VIZ Signature imprint, URUSEI YATSURA depicts the hilarious misadventures of an unlucky human boy who meets a beautiful alien princess. The series is rated 'T+' for Older Teens; Volume 1 will carry a print MSRP of $19.99 U.S. / $26.99 CAN. URUSEI YATSURA's volumes will present 400 content pages in the larger VIZ Signature trim size. The complete series is scheduled for English publication by VIZ Media every quarter.
In URUSEI YATSURA, beautiful space alien princess Lum invades Earth on her UFO, and unlucky Ataru Moroboshi's world gets turned upside down! Will Lum become Earth's electrifying new leader? Or will Ataru somehow miraculously save Earth from space alien onslaught?
"URUSEI YATSURA is an iconic manga series, and until now, has never been fully published in English," says Amy Yu, Editor. "Our new VIZ Signature editions allow readers to enjoy the complete URUSEI YATSURA for the first time. We hope new and veteran manga fans will add this legendary series to their collections!"
The spotlight on Rumiko Takahashi's career began in 1978 when she won an honorable mention in Shogakukan's prestigious New Comic Artist Contest for Those Selfish Aliens. Later that same year, her boy-meets-alien comedy series, URUSEI YATSURA, was serialized in Weekly Shonen Sunday. This phenomenally successful manga series was adapted into an anime format and spawned a TV series and half a dozen theatrical-release movies, all incredibly popular in their own right. Takahashi followed up the success of her debut series with one blockbuster hit after another—MAISON IKKOKU ran from 1980 to 1987, RANMA 1/2 from 1987 to 1996, and INUYASHA from 1996 to 2008. Other notable works include MERMAID SAGA, RUMIC THEATER, ONE-POUND GOSPEL, and RIN-NE.
Takahashi was inducted into the Will Eisner Comic Awards Hall of Fame in 2018. She won the prestigious Shogakukan Manga Award twice in her career, once for Urusei Yatsura in 1981 and the second for Inuyasha in 2002. Most of the Takahashi canon has been adapted into other media such as anime, live-action TV series, and film. Takahashi's manga and the other formats her work has been adapted into have continued to delight generations of fans worldwide. Distinguished by her wonderfully endearing characters, Takahashi's work adeptly incorporates various elements such as comedy, romance, fantasy, and martial arts. While her series are difficult to pin down into one simple genre, the signature style she has created has come to be known as the "Rumic World." Rumiko Takahashi is an artist who represents the very best in the world of manga.
For more information on URUSEI YATSURA and other Rumiko Takahashi anime and manga titles distributed and published by VIZ Media, please visitviz.com.
About VIZ Media, LLC
Established in 1986, VIZ Media is the premier publishing, animation distribution, and global entertainment licensing company. Along with its popular digital magazine WEEKLY SHONEN JUMP and blockbuster properties like NARUTO, DRAGON BALL, SAILOR MOON, and POKÉMON, VIZ Media offers an extensive library of titles and original content in a wide variety of book and video formats, as well as through officially licensed merchandise. Owned by three of Japan's largest publishing and entertainment companies, Shueisha Inc., Shogakukan Inc., and Shogakukan-Shueisha Productions Co., Ltd., VIZ Media is dedicated to bringing the best titles to English-speaking audiences worldwide.
Learn more about VIZ Media and its properties at viz.com.