Score: MUST SEE IN THEATERS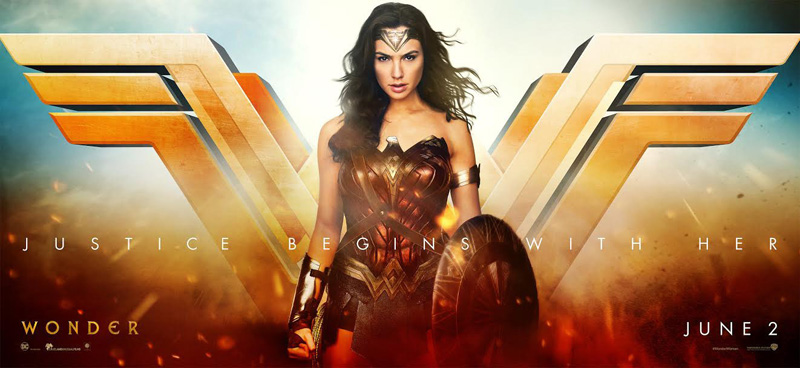 Author: Ariel Landrum
As the genre of superhero films has evolved and embraced modern themes, audiences have begun to experience the same brooding, depressed heroes submerged in a cold, dark world. The color palette of these movies equates to gloomy skies and muddy waters. Their furrowed brows and sorrows barely resemble the traditional cape crusaders of Hollywood days. Not since Christopher Reeves slipped on a red and blue suit, sporting an iconic curl and a smile, have audiences seen an inspiring superhero that bestows hope and grace. Not until June 2, 2017, that Wonder Woman,  DC Comic's first female superhero, over 75 years in the making, hit theaters.
Israeli actress Gal Gadot is poised and assured in her first big role, portraying an authentic hero who can take down a building while simultaneously being impressed with ice cream. The heartbreak Gadot's Diana Prince discovers when she learns the cruelty of man, without the corruption of Ares, has her questioning her beliefs. Diana differs from other heroes in modern flicks in that she still has hope. She even accepts aid from others! Unlike her testosterone-engrossed, soon-to-be Justice League male counterparts, who aspire to work alone, she eagerly partners with a quartet of misfit sidekicks. She doesn't need the aid, but as a true hero, she wants to aid in helping others actualize their goodness.
Wonder Woman's history in the comics is fraught with feminism, truth, and love. She empowers those around her and has never entertained the idea of being "subservient." Her origin story in the film slightly changes as it takes place during WWI, whereas she was conceptualized during WWII. Of course, Marvel has already introduced an American soldier named Steve to the big screen during that era, so the change is understandable.
Establishing franchise continuity, the picture opens with haunting music, a narration of "darkness," and a present-day Diana Prince working in the antiquities department of the Louvre. This is the only remnants of the characterized grandiose self-pity of Batman Vs. Superman, where fans got a glimpse of Diana. As she lovingly reminisces over a familiar ancient photo, pay close attention to the artifacts behind her, as it appears a few Easter Eggs are hidden on those shelves.
Her memories bring the cinema back to her provenance – Diana's mother, Hippolyta (played by Connie Nielsen), tells the tale of how she was molded by clay, brought to life by Zeus, and their home Themyscira hidden from the world of man. The Amazons who all inhabit the island are warrior women whose sole purpose is to train for the return of the God of War, Ares. Hippolyta dreads the day when Diana will learn how corrupted humans are.
This day comes when soldier Steve Trevor's (Chris Pine) plane crashes into the island, bringing with it a German army. The amazing battle scene on the beach of the island is a testament to the combat choreographers, the CGI, and the actresses themselves. Director Patty Jenkins made the right call in filling this mystical land of fighting females, masters of arrow, sword, and spear, with professional sports athletes. They cast diverse women from CrossFit competitions, basketball and volleyball players, and professional fighters. Filling the female army ranks with such authenticity makes the island, and it's fight scenes believable.
As part of the tradition for superhero movies, there is a love interest angle. The beauty, however, is the natural growth between Diana and Steve. Instead of being forced with a "love at first sight," Diana portrays more wonder and curiosity in meeting a man, the first she has ever encountered. Instead of hypersexualized lingering camera angles on thighs and chests, often found from male directors, viewers enjoy the awkward exchanges about "pleasure" and nudity that would be expected of people with polar opposite upbringings. The humor between them, from Diana's naivety of the modern world to Steve's "above average" desire to impress, create a quirkiness evocative of the comics. Their romance has such a subtle undertone that when it happens, it's as if viewers were breathing in true love for the first time.
Wonder Woman has already made many historical firsts that need to be mentioned. Jenkins has the honor of being the first female director to helm a superhero feature. For the character, this will be the first feature-length film that Wonder Woman has ever had. Furthermore, it has accomplished what no DC Extended Universe film has: impressing critics. The film is so renowned that it currently has the highest score for a nonanimated superhero movie on Rotten Tomatoes.
As Diana's powers grow and she discovers her true destiny, she never loses sight of her honor, values, or courage. The elegant Gadot and her strong and endearing portrayal will inspire generations of fans to find faith in themselves. Wonder Woman is the much-anticipated game-changer for female superhero films. Just as Diana told the ice cream vendor on the street, "You should be proud," so should the entire cast and crew of Wonder Woman.
Rating: PG-13 (for sequences of violence and action and some suggestive content)
Director: Patty Jenkins
Starring: Gal Gadot, Chris Pine, Connie Nielsen, Robin Wright, David Thewlis, Danny Huston, Elena Anaya, Ewen Bremner, Lucy Davis, Lisa Loven Kongsli, Said Taghmaoui, Eugene Braverock
Screenwriters: Allan Heinberg, Geoff Johns, Patty Jenkins
Genre: Action, Adventure
Synopsis:
"Wonder Woman" hits movie theaters worldwide next summer when Gal Gadot returns as the title character in the epic action adventure from director Patty Jenkins. Before Wonder Woman, she was Diana, princess of the Amazons, trained to be an unconquerable warrior. Raised on a sheltered island paradise, when an American pilot crashes on their shores and tells of a massive conflict raging in the outside world, Diana leaves her home, convinced she can stop the threat. Fighting alongside man in a war to end all wars, Diana will discover her full powers…and her true destiny.